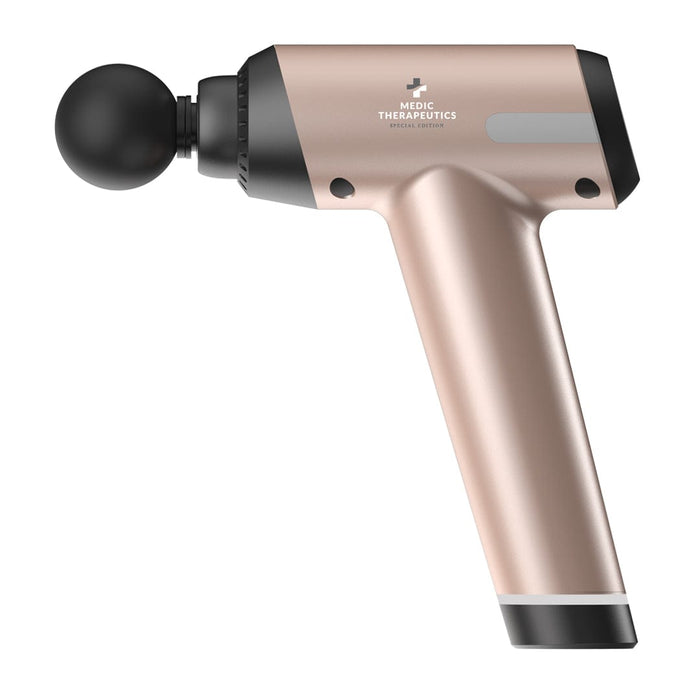 Special Edition Handheld Massage Gun w/ Impact Case & 6 Attachments
Sold out
Original price
$250.00 USD
-
Original price
$250.00 USD
$250.00 USD
-
$250.00 USD
Current price
$250.00 USD
Shiping Rates

Domestic Shipping Rates (within the United States)

Ground Shipping is FREE on all U.S. orders over $100*

Ground Shipping is $15 on all U.S. orders under $100*

Expedited Shipping is $25

International Shipping Rates 

Flat International Shipping fee of $50

Payment Method

We accept all major credit cards, online store credit, Amazon Pay and Apple Pay.
This massage gun helps reduce minor muscle aches. The vibrating massager helps support blood flow to specific muscle areas relieving muscle soreness and stiffness. Cordless and lightweight for your convenience, this massage gun comes with 6 massage heads for a complete body massage. Use it on: the neck, back, shoulder, abdominal, the palm of hands, hips, forearm, and thighs.
INCLUDES
1: Massage Gun
6: Head Attachments
FEATURES
Helps reduce Minor Muscle Aches: Vibrating massager helps support blood flow to specific muscle areas relieving muscle soreness and stiffness
2,400 percussions per minute
Multi-range adjustment
Cordless & Lightweight-recover, warm-up, helps release tension and more anytime, anywhere.
Helps reduce muscle soreness and stiffness
Helps reduce muscle recovery time
Complete Body Massage Use on neck, back, shoulder, abdominal, the palm of hands, hips, forearm, thighs
This massage gun is designed to relieve body stress and pain by massaging soft tissues in the body
Six interchangeable massage heads along with 20 different speeds
Benefits of percussion therapy: Helps combat post-workout tension, helps to relieve stiff and sore muscles, helped improve the range of motion, helps temporarily promote blood circulation, helps speed up warm-up and recovery
6 ATTACHMENT HEADS
U - Shaped Head: for use on either side of the spin
Shovel Head: for full body use
Bullet Head: for smaller, localized use
Large Round Head: for larger muscle areas
Flat Head: for use on legs, hips, and hands
Mushroom Head: for use on the tender areas
DETAILS
Length: 6.88in.
Width: 2.55in.
Height: 9.37in.
Weight: 1.54lbs.
HOW TO USE
Use only on clean, dry areas of the body, over the clothing. Lightly press, moving across the body for approx. 60 seconds per region.
Ensure the device is locked into place in the provided base. To turn on the device, move the switch at the bottom of the battery to the "ON" position. Move the switch to the "Off" position to turn the device off. To adjust settings, once the device is switched on, press the power button once for Level One twice for Level Two, and again to switch the device off. The power level will be indicated by the blue LED light. Massage body, applying pressure when desired.
Care Instructions: Clean with a slightly damp cloth. Dry with a soft cloth. When traveling, remove the battery and store it in the supplied carton box.
Disclaimer: WARNINGS: Keep away from liquids or heat sources and keep ventilation ports free from dust and debris. Do not immerse in water. Do not remove screws or attempt to disassemble. Do not operate for more than one hour at a time. Allow 30 minutes in-between uses. Unplug the charger from the battery after charging and prior to use. Do not continue use if injured and consult your physician. Always consult your doctor or physician immediately for any medical questions you may have. Keep out of reach of children. Please Note: This product itself does not require the Prop 65 warning. Medic Therapeutic is taking extra precautions by placing this warning on the label.