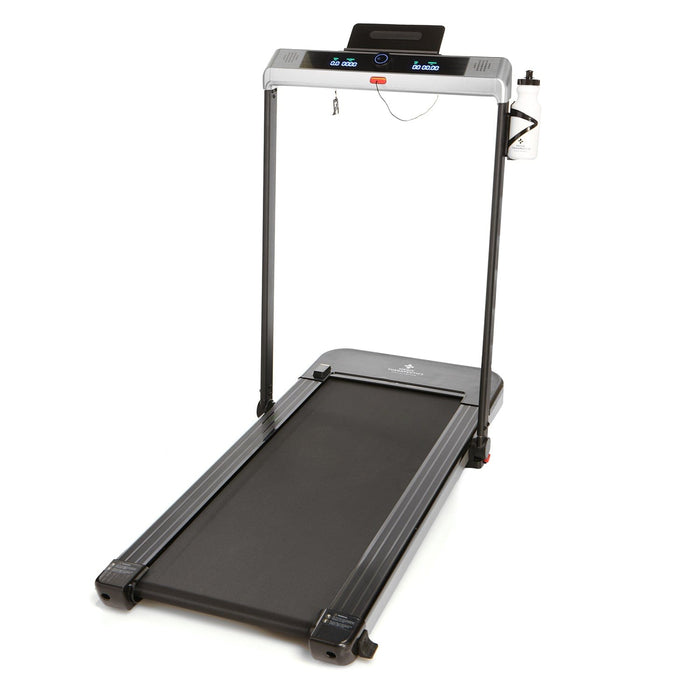 Special Edition Elite Folding Treadmill w/ Bluetooth
Original price
$699.99 USD
-
Original price
$699.99 USD
$699.99 USD
-
$699.99 USD
Current price
$699.99 USD
Shiping Rates

Domestic Shipping Rates (within the United States)

Ground Shipping is FREE on all U.S. orders over $100*

Ground Shipping is $15 on all U.S. orders under $100*

Expedited Shipping is $25

International Shipping Rates 

Flat International Shipping fee of $50

Payment Method

We accept all major credit cards, online store credit, Amazon Pay and Apple Pay.
This treadmill is foldable for easy storage and transportability and features a Bluetooth connection so you can listen to music. Easy to use, it also features an auto-stop safety key function. Builds endurance, strengthens cardio abilities and helps support the circulation of blood throughout the body.
INCLUDES
Special Edition Elite Folding Treadmill
User Manual
Inner Hexagon Spanner
Silicone oil
Water Bottle
Water Bottle Holder
MAIN BENEFITS
One of the Most Compact Treadmills with Wheels for Portability: The Special Edition Treadmill from Medic Therapeutics folds down completely flat for easy storage under beds, sofas, and more. Plus, it only requires a 2-step assembly process when you receive it at home. Equipped with wheels at the front of the treadmill which makes moving the treadmill almost effortless and convenient.
Highest Medic Therapeutic MPH offered with Large Surface Area: With the 27% larger 17" x 42.5" running belt, this ensures users will have plenty of room to run and or walk during their at-home workout. Speeds range from .6mph to 7.6mph to accommodate both running and walking and hold up to 240lbs of user weight.
Advanced Display Dashboard with XL Panel: The Home Treadmill features a Bluetooth and audio system, an extra-large easy-to-use display panel to track distance, time, and calorie count, and a knob to increase speed. Equipped with an extra-large panel to hold magazines, books, iPads, or phones as well as an included water bottle holder.
Comfortable and Sturdy: The large area rubber running belt for this heavy-duty treadmill is not only shock-absorbing but also slip-resistant- Providing a comfortable and sturdier workout experience for those of most fitness levels.
FEATURES
Foldable for easy storage and transportability
Listen to music via Bluetooth connection
Speed range: .6 - 7.6 MPH
Auto-stop safety key function
Easy to use
Health benefits: Builds endurance; Strengthens cardio abilities; Helps support circulation of blood throughout the body; Promotes weight loss
Choice of Color
The compact size allows you to put it anywhere in your home.
Length: 54.33"
Width: 26.4"
Height: 43.9"
Weight: 68.35lbs.
HOW TO USE
View manual here
The power plug can only be connected to a 100V-120V AC voltage power socket. Please use the power socket with a safe ground line. The installation and grounding of the plug must be consistent with the parameters of the user's area. Check all parts before use to ensure that they are securely placed and locked in. This product should be used by only one person at a time.
HOW TO USE A TREADMILL
Plug in the power cord and turn on the power switch. The switch will light up and the machine will make a "beep" sound, notifying the user that the product has been turned on. The lighting on the display panel will turn on as well.
SAFETY LOCK
The treadmill will only work if the safety lock key is completely placed in the slot on the dashboard. Take the clip-end section of the safety lock key and attach it to your clothing. In the unlikely event of an accident, pull off the safety lock key to immediately stop the motor. If you want to continue using the treadmill, put the safety lock key back in.
OPERATION FUNCTION
Turn on the power, all windows will light up for 2 seconds then the machine will automatically go on standby mode. Once the safety lock key is set in place, press the knob. A three-second countdown will begin. Once the time is up the treadmill's running belt will start moving at the lowest speed. To increase the speed, rotate the knob clockwise. To decrease the speed, rotate counterclockwise. To stop the treadmill press the knob or disconnect the safety lock key and the treadmill will slowly come to a full stop.
When your device is connected to the treadmill's Bluetooth, press the volume down button during playback to decrease the volume; press the volume up button to increase the volume; press the music pause button to pause music playback, and press it again to resume music playback.
TECHNICAL SPECIFICATIONS
Packing Dimension: 61.8 x 29.9 x 6.5 Inches
Folded Dimensions: 58.7 x 26.4 x4.9 Inches
Unfolded Dimensions: 54.33 x 26.4 x 43.9 Inches
Running Area:17 x 42.5 Inches
Maximum Power: 550 W
Speed Range: 0.6 - 7.6 MPH
Maximum Weight Limit: 240 Lbs.
Net/Gross Weight: 57.32 / 68.35 Lbs.
CARE INSTRUCTIONS
MAINTENANCE GUIDE - Warning: Be sure to unplug the power plug of the machine before maintaining the product. Use a cloth to clean the product surface. Full cleaning will prolong the service life of the product. Clean the dust regularly to keep all parts clean. Clean the exposed parts on both sides of the running belt. This will reduce the accumulation of impurities in the running belt. User must keep their sneakers clean. Avoid placing foreign objects beneath the running belt and damaging the running board and belt.
The surface of the running belt should be scrubbed with a soapy wet cloth. Please be careful not to splash water on the electrical components or under the running belt. Check and lock all parts of the treadmill regularly, replace defective parts, and/or leave the equipment idle for repair. Before cleaning and maintenance, please shut down the treadmill and unplug the power plug. Shut down the machine and unplug the power plug when not in use.
DISCLAIMER
This product is for indoor use only; please do not make it or use it outdoors. The treadmill should be placed in a flat and clean space, do not put it on top of a thick carpet or near water. There should be a 3-6 ft open safety area behind the treadmill. This product is not designed for people or children with limited physical or mental capacities, or people with zero experience and knowledge unless they are supervised and instructed by an adult responsible for their safety. If the power cord is damaged, in order to avoid any danger, it must be replaced by the manufacturer or professional maintenance personnel. It is strictly forbidden to replace any spare parts privately.
When using the product, please wear comfortable and tight clothing to help avoid any accidents such as tripping or clothes getting tangled while in use. Don't let children or pets come near to avoid accidents. This equipment is designed for home use only. It is not suitable for professional training and testing. It cannot be used for medical purposes. The heart rate display of this product does not provide data for medical purposes. The maximum user weight limit is 240 lbs. (108kg). If the user weighs more than 240 lbs. (108kg), it is not recommended that you use this product. Severe injury could occur if the user exceeds the weight limits stated here. This product has not been designed for users who exceed this weight limit.