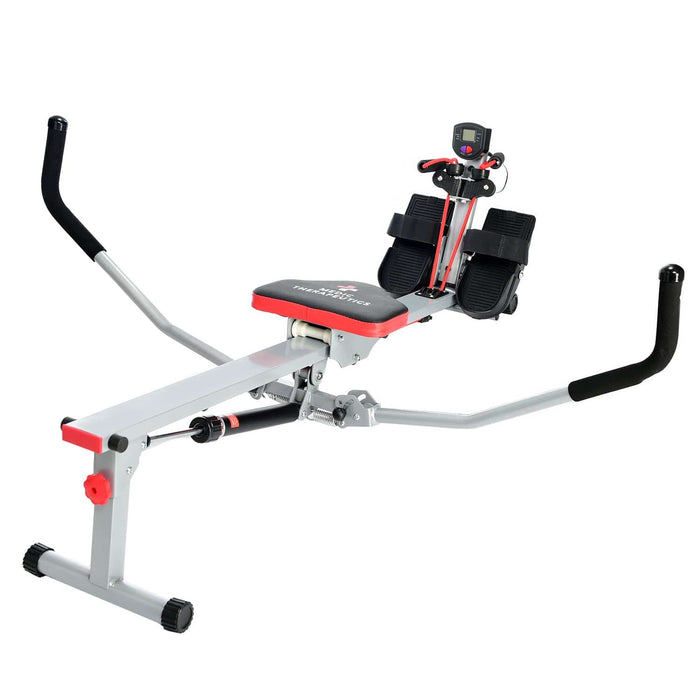 Portable Fitness Rowing Machine w/ Adjustable Resistance
Original price
$179.99 USD
-
Original price
$179.99 USD
$179.99 USD
-
$179.99 USD
Current price
$179.99 USD
Shiping Rates

Domestic Shipping Rates (within the United States)

Ground Shipping is FREE on all U.S. orders over $100*

Ground Shipping is $15 on all U.S. orders under $100*

Expedited Shipping is $25

International Shipping Rates 

Flat International Shipping fee of $50

Payment Method

We accept all major credit cards, online store credit, Amazon Pay and Apple Pay.
This rowing machine features 12 levels of resistance and is easy to use, foldable, portable, and easy to store. You'll find it comfortable and sturdy with non-slip foam padded handles and a wide seat cushion. The LCD digital display keeps track of time and calories burned.
FEATURES
12-level resistance regulator: Rower provides an efficient and effective workout with 12 levels of air pressure resistance through a hydraulic cylinder that may help support cardiovascular fitness and strengthen your legs, arms, back, abs and glutes.
Space-Saving, Portable, and Easy to Assemble: The At-Home Rowing Machine from Medic Therapeutics is equipped with wheels on the bottom for easy mobility and transportability. When you're finished with your workout, the rower's arms easily fold down and the rower can be stood on end to be out of the way when not in use.
Comfortable and Sturdy: Features full-motion arms and adjustable, hydraulic cylinder resistance for a natural and effective full range of motion rowing stroke. Has non-slip foam padded handlebars, and pedals with adjustable straps as well as a wide-cushioned seat providing a comfortable and sturdier workout experience for those of most fitness levels.
Wheels Attached: Wheels make it easy to transport the rowing machine.
Non-Slip Foam Padded Handles: High-quality non-slip foam is wrapped around the handles for a comfortable, non-slip grip.
Wide-Seat Cushion: Soft and comfortable, ideal for long workouts.
LCD Digital Display: Keep track of time and calories burned.
Non-Slip Pedals with Adjustable Straps: Thick non-slip pedals with Velcro adjustable straps to ensure proper foot placement.
12-Level Resistance Regulator: This allows you to adjust the resistance level of your workout.
High-Quality Fixed Screws: Ensures sturdiness for a safe and smooth workout.
Easy to use
Foldable for easy storage and transportability
Powered by Hydraulic Cylinder - No Electricity Needed
Even more, you'll be able to enjoy rowing workouts for years to come. The sturdy steel frame construction is built to last. When you're finished with your workout, the rower's arms easily fold and the rower can be stood on end to be out of the way when not in use.
DETAILS
Height Requirements: under 6ft. (190cm)
User Weight Capacity:350lbs. (159KG)
Arms' Length when expands 52in.
HOW TO USE
Step 1. Slowly sit on the rowing machine, reach over and grab the handles and fold your knees. Make sure you have proper posture while reaching over for handles.
Step 2. While your knees are still bent start to pull the handles towards you.
Step 3. Start pushing yourself back against the foot pedals until your knees are straight.
Step 4. Once you have completely pushed back slightly tilt your body backwards.
Step 5. Return to the original position (see Step 1 image) and repeat all steps again.
Workout Tip: The intensity of the Rowing Machine's movement should be slowly increased from low to high intensity gradually. This machine offers a full-body workout
CARE INSTRUCTIONS
NOTE: Make sure to store in a dry area to prevent corrosion. Clean product with a clean dry cloth. Make sure that the product is on a leveled surface to start the folding process. Unscrew the fixed screw on the folding bracket, fold the leg in and close it. Remove the handle secure pins and fold the handles inwards until they overlap. Once folded pick up the product from the back end, wheels located on the other end will make it easy to roll away. Easily store away in an upright position to save space.