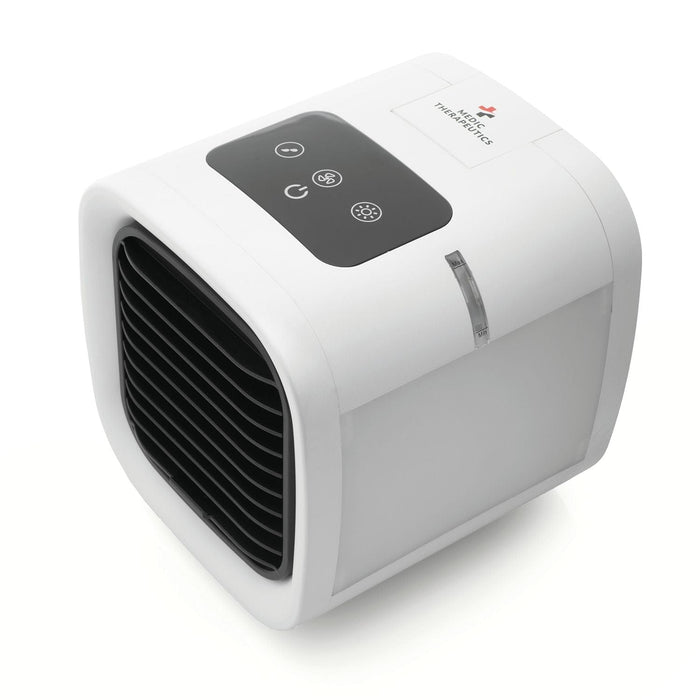 Portable AC Unit w/ Atomizing Humidifier & Touch Display
Original price
$75.00 USD
-
Original price
$75.00 USD
Shiping Rates

Domestic Shipping Rates (within the United States)

Ground Shipping is FREE on all U.S. orders over $100*

Ground Shipping is $15 on all U.S. orders under $100*

Expedited Shipping is $25

International Shipping Rates 

Flat International Shipping fee of $50

Payment Method

We accept all major credit cards, online store credit, Amazon Pay and Apple Pay.
This portable AC unit features 5 different fan speed output levels for comfort and includes a water tank for humidifying the room air. It features a touch display that allows for easy settings selection and offers an oscillation feature with simultaneous ventilation. Compact, portable, and easy to use - take your cool on the go!
INCLUDES
Portable AC with built-in atomizing humidifier
USB Cable
Adapter
Water Funnel
Filter
FEATURES
5 Adjustable Speeds w/Humidifying Feature - 5 different fan speed output levels for maximum comfort whenever and wherever you need it. Stay away from the dry air and enjoy a cool and comfortable summer!
Compact, Lightweight & Portable - allows you to enjoy the cool air in your bedroom, dorm room, office, car, or even outdoors. Bringing true meaning to anytime, anywhere. Enjoy for up to 8 hours on a single tank!
Easy-to-Use Touchscreen - simple to work with the touch of a button to control cooling mode, fan speed, and power
360-degree rotation - Offers an internal oscillation feature with simultaneous ventilation to meet your comfort needs.
Ultra-Silent Operation - unlike traditional air conditioners, this one with its 9-blade fan features an ultra-silent fan that won't disturb sleep or work. Offers an internal oscillation feature with simultaneous ventilation
DETAILS
The unit includes a water tank for humidifying the room air.
The humidifying feature can enhance the cooling effect.
Easy to assemble
7 LED light color options - alternating or static
Rapidly cools and humidifies
9 blade fan
Leakage proof system
Atomizing cooling mode
6.75"L x 6.5"W x 7"H; 1.7 lbs
TIPS: Use on table, desk or countertop. After filling the tank, for efficient cooling, allow the filter to absorb water for 3 minutes before use. Remaining within 3 feet of the device will maximize the cooling benefits. Set on low, the device can run for up to 8 hours from a single filling of the tank.
HOW TO USE
1. Place the unit on a flat surface.
2. Open the tank door and fill it with water.
3. Plug the USB power adapter into an outlet. Then, insert the larger USB end of the cable into the adapter and the smaller end into the power port in the back of the unit.
Only use the AC unit in a dry, indoor environment. The unit must be plugged-in in order to operate. The AC unit is only completely off when unplugged from the outlet.
Power Rating: 4.3 | 4.9 | 5.9 | 7.5 | 8 W Max. Fan Flow Rate: 2.05 m³/min Service Value: 17 (m³/min)/W Fan Sound Power Level: 27 | 29 | 31 | 34 | 35 dB(A)Max. Air Velocity: 2.2 | 2.6 | 3 | 3.3 | 3.4m/s Stand-By Power Consumption: 0.12 W
Care Instructions: If the unit won't be in use for an extended period of time, empty the water tank, and run the fan on the highest setting for 4 hours to completely dry out the unit and filter. Then store in a cool, dry space. Do not use near flame or fire source. Do not submerge in water or other liquids. Do not turn the device upside down. Do not block the front or back grills of the device. Clean the tank once per week with a clean cloth and mild soap. Replace filter every 6 months.
Disclaimer: Always unplug when replacing the filter, cleaning, or moving the device. It is recommended to replace the filter every six months.