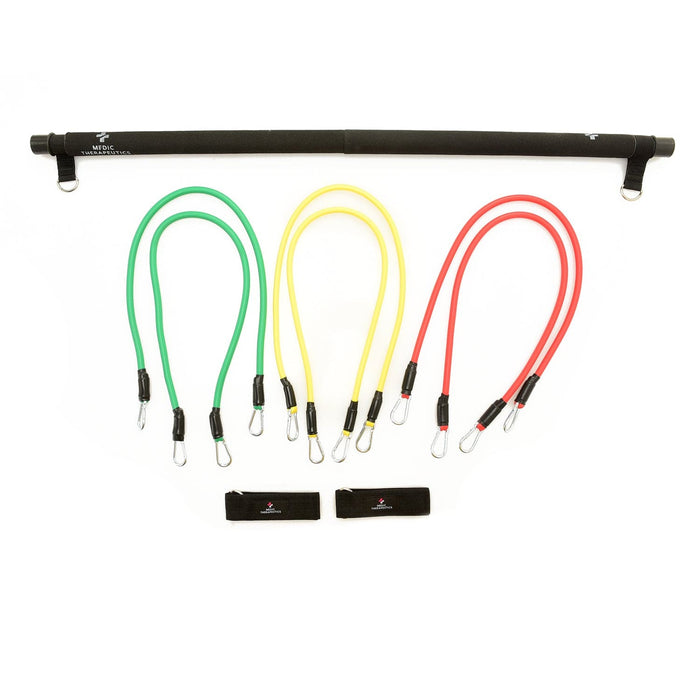 Pilates/Yoga Body Bar w/ 3 Sets of Resistance Bands
Original price
$50.00 USD
-
Original price
$50.00 USD
Shiping Rates

Domestic Shipping Rates (within the United States)

Ground Shipping is FREE on all U.S. orders over $100*

Ground Shipping is $15 on all U.S. orders under $100*

Expedited Shipping is $25

International Shipping Rates 

Flat International Shipping fee of $50

Payment Method

We accept all major credit cards, online store credit, Amazon Pay and Apple Pay.
Achieve a powerful full-body workout with this fitness set. Easy to use, portable and lightweight, this body bar features three sets of detachable resistance bands for multiple levels of resistance. Enjoy the multifunctional benefits of Pilates, yoga, stretching, and strengthening.
INCLUDES
1: Pilates/ Yoga Exercise Bar w/ foam grip
3: Sets of Resistance Bands (2 each level)
1: Set of Handles
Manual
BENEFITS
Easy to Use: The Medic Therapeutics Pilates / Yoga Body Bar is suitable for all fitness levels. The 3 levels of resistance bands allow users to choose their intensity and scale up as they progress.
Low Impact Full Body Workout: The multifunctional body bar helps build muscle, increases flexibility and agility, and provides a low-impact cardio workout. This home gym system comes with a workout guide that provides warmups and key body exercises to get you started.
Portable and Lightweight: Detachable resistance bands make it easy to swap out resistance as you progress or as different users work out. This workout system is lightweight, compact, and replaces bulky home gym equipment to easily be used anywhere in your house. The 3ft bar pulls apart for easy storage.
Durable High-Quality Construction: Made with durable, high-quality materials that are lightweight. Added comfort and security come from the thick foam covering our bar and the included nylon Velcro straps.
DETAILS
Multiple Levels of Resistance: - 10 LBS (Yellow) - 15 LBS (Red) - 20 LBS (Green)
High Quality 100% Nylon Velcro Straps
Multifunctional: - Pilates - Yoga - Stretching- Strengthening
Country of Origin: China
Care Instructions: The Pilates/Yoga Bar material is sweat-resistant but does need to be cleaned periodically for good hygiene purposes. Dampen a clean, soft cloth with water and wipe down the bar. Do not use any cleaning agents or detergents. Store the equipment away from direct sunlight, in a dry, climate-controlled area. Do not store in extreme temperatures or in high humidity.
DISCLAIMER
Wear comfortable clothes and non-slip, soft-sole shoes while exercising. Make sure that your clothes are not too long and cannot get caught or snagged while exercising. Footwear must give your feet firm support and have non-slip soles. Do not exercise barefoot. Be sure to place your feet firmly on the floor when standing to exercise. Ensure you have enough space to move freely while exercising with your Pilates/Yoga Bar. Remove any surrounding objects or furniture from the exercise area. Leave enough space between yourself and other people. If you experience pain during an exercise, stop immediately. Only work out within the limits of your fitness level. For beginners, it is recommended to start with the yellow resistance band (10 lbs.) As fitness improves, increase the strength level by switching the bands. If any discomfort happens stop using and use the preferred resistance level that best matches your fitness level. Pilates/Yoga Bar: Not to be used with multiple people.
Never use to hit or push people, animals, objects, etc. Never use it as a lever. Never use it for support or anything similar. Never modify the bar. Prior to use, always ensure that the connections are tight and that the bar is not damaged. Do not use if there is visible damage. Consult your doctor before using the equipment and follow any advice or instructions. If you have special physical conditions such as a pacemaker, are pregnant, or if you suffer from inflammation of the joints or tendons or any other orthopedic complaints always consult your doctor. Stop exercising immediately and visit your doctor if one of the following symptoms occurs: nausea, dizziness, intense shortness of breath or pain in the chest region. Do not stretch the stretch bands further than 6' feet (185 cm) as the bands may tear.
Vendor Warranty Terms: Your Medic Therapeutics Pilates/Yoga Exercise Bar is backed by a limited lifetime manufacturer's warranty. Medic Therapeutics will repair or replace your device at any time should it fail due to a defect in material or workmanship, subject to certain limitations. Address: Medic Therapeutics Service Center3069 Taft Street Hollywood, FL 33021 Contact: warranty@medictherapeutics.com