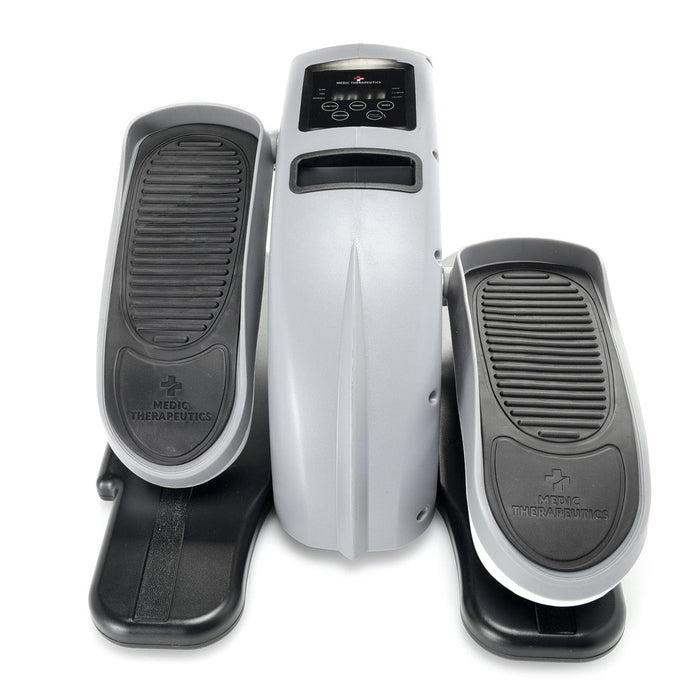 Adjustable Speed At Home Elliptical Trainer PRO w/ Remote
Original price
$315.00 USD
-
Original price
$315.00 USD
$315.00 USD
-
$315.00 USD
Current price
$315.00 USD
Shiping Rates

Domestic Shipping Rates (within the United States)

Ground Shipping is FREE on all U.S. orders over $100*

Ground Shipping is $15 on all U.S. orders under $100*

Expedited Shipping is $25

International Shipping Rates 

Flat International Shipping fee of $50

Payment Method

We accept all major credit cards, online store credit, Amazon Pay and Apple Pay.
Burn calories anytime, anywhere with this Elliptical Trainer PRO. It comes with three pre-programmed exercise modes, auto, and manual exercise modes, and five adjustable speed levels. The control panel displays vital information such as workout time, distance, speed, step counter, and calories burned with an automatic shut-off mode when the device has been inactive for 30 minutes. Complete with a built-in handle to easily move and store your device.
INCLUDES
Elliptical Trainer PRO
Remote Control
FEATURES
Convenient Exercise for Most Fitness Levels: Get ready to burn calories anytime and anywhere. Stepper allows you to keep active while busy sitting at your desk or at home watching TV.
Extreme Comfort and Safety: Equipped with oversized and non-slip foot plates to ensure a comfortable workout experience while also ensuring safety throughout your stair-stepping exercises. Lightweight and portable weighing only 18 lbs, this Stepper is 50% lighter than traditional stepper exercise machines. Equipped with a built-in handle for easy portability and to store your device.
5 Adjustable Speeds AND Modes: Keep track of your progress by viewing your time, steps, speed, distance, and calories while you work out with the large easy-to-read control panel with a digital display. Adjust speed to find the right workout for you. Provides smooth stepping motions throughout your workout with its sturdy construction. Alternate your pedaling direction between forward and backward
Easy to use with Remote Control: with a built-in timer that gives you a full 30-minute session and then automatically shuts off for your convenience. Plus, no assembly is required. Don't waste any extra time with direction, screws, or assembly time - this trainer comes to your door ready to use!
Control Panel Displays Vital Information: Scan - Displays each function every 5 seconds; Time - Represents the elapsed training time; Distance - Displays the walking distance achieved (in meters); Speed - Shows the speed level at which you are operating (01-05); Counter - Represents the number of pedal revolutions; Calories - Displays the number of calories burned
Low Impact Workout for most fitness levels: with 5 speeds, a forward/reverse mode, and a step counter you can maintain an optimal activity level in the comfort of your home
5 Adjustable Speed Levels 1: 0.58 KM/H; 2: 0.93 KM/H; 3: 1.28 KM/H; 4: 1.64 KM/H; 5: 2.11 KM/H
Comes with 3 pre-programmed exercise modes
Auto and Manual Exercise Mode
Automatic shut-off mode when the device has been inactive for 30min
Remote requires CR2025 3V battery
Country of Origin: China
HOW TO USE
1. Plug in the electronic stepper.
2. Press the Power button to turn on the power.
FUNCTION: Auto Exercise: Press the Mode button once to activate P1, twice to activate P2, and three times to activate P3. The pedals will rotate at a different speed and direction when set to these different Auto Modes.
Note: Speed and Direction CAN NOT be adjusted on Auto Mode.
Manual Exercise (HR): Press the Power button until the letters HR are displayed on the screen. The device is now set to Manual Mode.
There are 5 Speed levels: 01: 0.58KM/H; 02: 0.93KM/H; 03: 1.28KM/H; 04: 1.64KM/H; 05: 2.11KM/H
Direction: Press this button to switch the pedaling direction. Only available on HR (Manual Exercise).
Speed: Press this button to increase or reduce speed among the 5 Speed levels: 01, 02, 03, 04, and 05. Only available on HR (Manual Exercise).
Mode: Press this button to alternate the information displayed on the screen for Scan, Time, Distance, Speed, Counter, and Calorie
Note: 1. After the device stops operating in a function mode: Panel: Press the Power button to start/stop the function. Remote: Press the Start/Stop button to start/stop the function. 2. When the device is operating and your Function has been selected, it will take the device 3 seconds to start.
CARE INSTRUCTIONS
STORAGE: When not in use, place the product into the box and store in a dry, ventilated, cool area. Do not twist the power cord. Do not place the product in direct sunlight or heat. Do not store where there is high humidity, in areas such as bathrooms.
CLEANING: Before cleaning, make sure to turn the power off and unplug the power cord. Use a dry cloth to clean the surface of the product. Do not use corrosive cleaning agents to clean the product.
Disclaimer: 
Non-Medical Use. None of the Medic Therapeutics products are designed or intended to prevent, diagnose or treat any illness, condition, or disease, even when used as directed. This product is not a medical device. This product is not intended for use in the diagnosis of disease or other conditions or in the cure, mitigation, treatment or prevention of disease. Always consult your doctor or physician immediately for any medical questions you may have. This product is NOT guaranteed as a prevention or treatment for any disease or medical condition. For proper use only. Operate only as directed. Misuse may result in sickness or death. Always carefully review instructions for use in the operating instruction manual prior to use. Keep out of reach of children and supervise children under the age of eighteen (18) at all times if the minor is utilizing the electronic stepper. Do not allow the user to place this item in his/her mouth at any time. No child or minor should ever be left unattended with any of these items, as small parts may become loose and pose a choking hazard. Caution: Use on a level surface. Do NOT cover while using. Turn the power off after each use. Do Not operate with wet hands. Do Not use other medical electronic equipment, such as pacemakers or EKG machines. Keep out of reach of children and supervise children under the age of eighteen (18) at all times. For nonmedical purposes. WARNING: ONLY USE THE DEVICE WHILE SITTING. DO NOT STAND ON THE DEVICE.