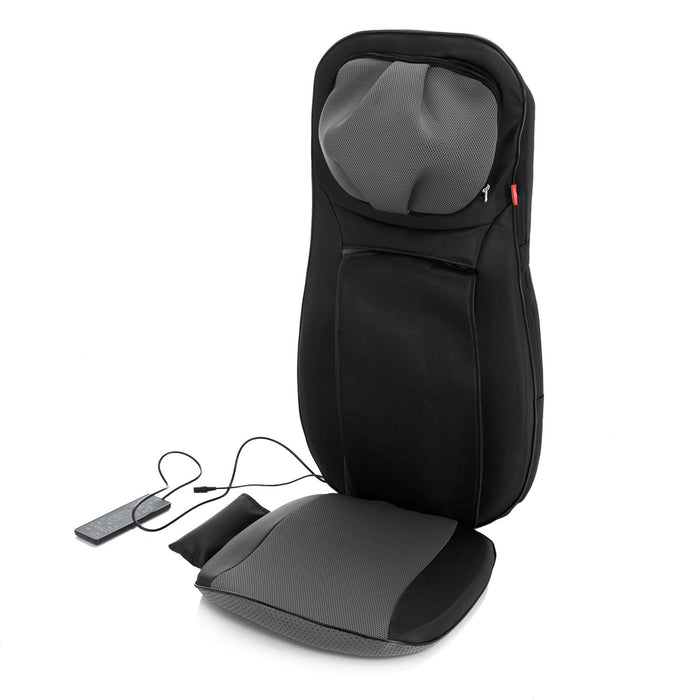 Adjustable Shiatsu Neck & Back Massage Cushion
Original price
$220.00 USD
-
Original price
$220.00 USD
$220.00 USD
-
$220.00 USD
Current price
$220.00 USD
Shiping Rates

Domestic Shipping Rates (within the United States)

Ground Shipping is FREE on all U.S. orders over $100*

Ground Shipping is $15 on all U.S. orders under $100*

Expedited Shipping is $25

International Shipping Rates 

Flat International Shipping fee of $50

Payment Method

We accept all major credit cards, online store credit, Amazon Pay and Apple Pay.
Adjustable and customizable, this Shiatsu massage cushion from Medic Therapeutics is ready to help you relax.
Includes
Shiatsu & Rolling Back/Neck Massager With Heat
Removeable & Washable Cover
Detachable Intensity Control Flap
Power Cord &12V Home Adapter
Features
Adjustable Neck Massage - The Medic Therapeutics massage cushion features unique neck massage nodes that can be adjusted up and down to your height needed for maximum relief of muscle tightness. Select your desired direction either clockwise or counterclockwise.
Fully Customize your Massage - With the push of a button, choose to focus on the specific parts of your neck, shoulders, and upper back that need relief the most. Control the style of massage with the Shiatsu, rolling, spot massage and heat features. Choose to keep or remove the detachable intensity control flap to adjust the intensity of your massage.
Easy to Use & Portable- The cushion itself is extremely sturdy & designed with leather optics and breathable mesh. Features a 15-minute automatic timer for the perfect at home massage that can easily be placed on your favorite chair with the included elastic straps and over 10 ft long cord. When not using, simply fold it up, put the remote in the included side pocket & store under the couch or bed
Diversified massage styles with automatic or manual adjustment including shiatsu kneading and rolling massage
Complete back & neck coverage
Spot massaging option perfect for targeting a specific area, including upper, lower, and full back
Height-adjustable shiatsu back and neck massage
Detachable intensity control flap
Most customizable or diverse options in a Massage Cushion
Removable and washable cover
Includes Heat, spot massage, vibration, shiatsu massage, rolling massage
Weight:

 

9.92lbs.
Disclaimer: Do not wet, do not use sharp objects near massager, never remove cover. This item is NOT A TOY. Close supervision is necessary when this appliance is used by, on, or near children or disabled persons. Never touch the power plug with wet hands. Please avoid exposing the device to water, high temperatures and direct sunlight. Never operate under blankets where the air opening may be blocked. Do not use if you have skin disorders, open wounds, or swollen or inflamed areas. The massager is equipped with a protection against over-heating for safe use.
How To Use
1. Attach the massager to a chair with elastic straps or place it on another seat where the massager will stay in place beneath you.2. Connect the adapter cable to the corresponding cable on the cushion.3. Plug the adapter into an outlet.4.Turn on the device using the remote control and select your desired massage mode.5. When finished, place the remote control in its pouch located at the side of the seat cushion of the massager.6. The detachable intensity control flap of the back and neck massager allows you to choose a softer or more intense massage. Leave on for a softer massage, detach for a more intense massage
Dimensions: Back rest - 30.3 in L x 17 in W Seat - 14.2 in x 18 in w Voltage:-Input: AC 100-240V ~50/60Hz-Output:12VDC 3.5A•Nominal Power: max. 42Watts
Care Instructions: Do not wash in washing machine or immerse the product or the adapter in water.• Always switch off before cleaning and remove the adapter from the socket with clean, dry hands.• The massager should be wiped down with a slightly moist cloth and dried thoroughly. Do not wipe the product with alcohol or harsh chemicals such as thinner or bleach.• Do not overstretch the elastic back straps.• Keep away from heat, fire or exposure to direct sunlight.• Do not apply excessive pressure or weight onto massager/massage heads. Application of a direct force in excess of 110 lbs. may damage your massager and invalidate your warranty. Refrain from over usage of the device.• Store the massager in a cool, dry place out of reach of children.• Avoid contact with sharp edges or pointed objects which might cut or puncture the cover of massager
Material
Outer Material: Leather optics (PU), and breathable mesh