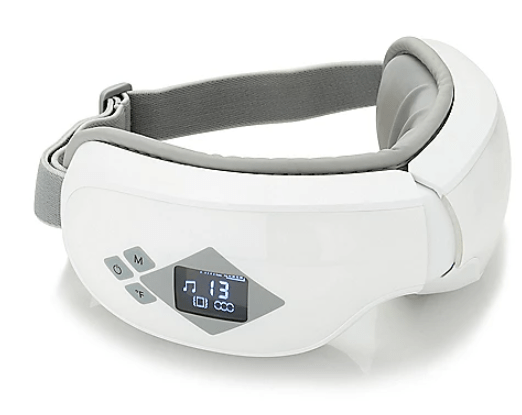 3-in-1 Stress Therapy Eye Massager w/ Bluetooth Speaker
Sold out
Original price
$119.00 USD
-
Original price
$119.00 USD
$119.00 USD
-
$119.00 USD
Current price
$119.00 USD
Shiping Rates

Domestic Shipping Rates (within the United States)

Ground Shipping is FREE on all U.S. orders over $100*

Ground Shipping is $15 on all U.S. orders under $100*

Expedited Shipping is $25

International Shipping Rates 

Flat International Shipping fee of $50

Payment Method

We accept all major credit cards, online store credit, Amazon Pay and Apple Pay.
The MT eye massager combines new microchip technology for an optimum experience in eye circulation and relief. Soft warmth and gentle vibration simulate acupressure while a built-in speaker offers the ability to play music for an immersive experience. The eye massager is the ideal solution for students and adults who spend long periods of time working on computers.
INCLUDES
Eye Massager
USB Cable
Carrying Case
User Manual 
DETAILS
HD Display Screen
Heat by Graphene
Adjustable Temperature
Adjustable Modes
Double-layer Air Bag Massager
1650mAh Rechargeable Battery
One size fits most
FEATURES
Class I Medical Device that aids in recovery & relaxation by utilizing gentle vibration, air pressure resistance, acupressure, and heat technology to promote blood circulation, temporarily reduce minor muscle aches and pain, and soothe eye muscles and tension.
GRAPHENE TECHNOLOGY - A film composed of carbon atoms. When graphene is heated, the infrared heat it generates is believed to help promote blood circulation.
The Medic Therapeutics Eye Massager provides an immersive experience for the user with 5 unique modes tailored towards relaxation, sleeping, pain management, and vitality.
The Bluetooth connectivity allows you to listen to music, podcasts, and more to enhance the experience.
Compact, foldable, & lightweight design with a carrying pouch
The 180-degree foldable design fits most faces.
The easy-to-use control panel allows the user to turn the item on/off and adjust modes, volume and heat from 98-107 degrees.  
The battery life is 2 hours once fully charged and the device can easily be recharged with the included USB cable.
Multiple Integrated Massage Modes: Air Pressure Heat Compression Vibration Music (Bluetooth connection)
The device is equipped with basic anti-shock facilities making it suitable for air, train, and car travel.
Rated Voltage 3.7V Executive Standard GB1706.1-2005 Rated Power 4.5W Executive Standard GB4705.10-2008
5 integrated massage modes plus Bluetooth:
Integrated Mode
Active Mode
Clear Mode
Dynamic Mode
Sleeping Mode
CARE INSTRUCTIONS
Be sure to charge the device prior to use. Once charged, unplug to avoid over-charging. Over-charging can impact the life of the battery. Turn the power off and unplug the device prior to cleaning. When cleaning, always use a soft, dry cloth. Do Not use corrosive or harsh detergents or cleaning agents as they can cause discoloration, structural damage, and surface deterioration. If the device will be stored over a long period of time, use a dust cover.
DISCLAIMER
Keep out of reach of children. Do not use it outdoors or while driving. Do not use if you have symptoms, diseases, or conditions of the eye such as cataract, glaucoma, recent eye surgery, or detached retina Individuals with a history of stroke, hypertension, or hypotension, should consult with a doctor prior to use. This is not a diagnostic device and should never be used for commercial purposes. Always close your eyes when using this product. Your eyes might be blurry following use and will clear in 3 to 4 minutes.