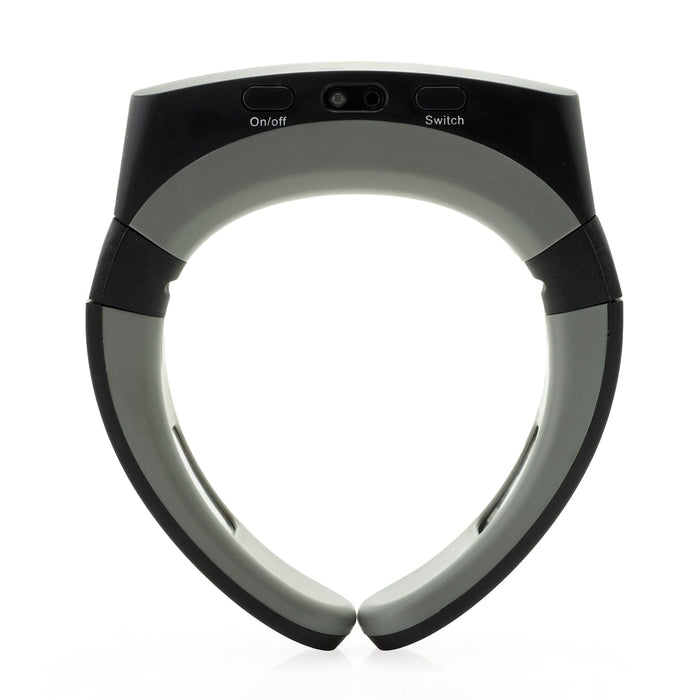 Medical Grade Neck Pain Management Device w/ Red & Blue LED Therapy
Sold out
Original price
$170.00 USD
-
Original price
$170.00 USD
$170.00 USD
-
$170.00 USD
Current price
$170.00 USD
Shiping Rates

Domestic Shipping Rates (within the United States)

Ground Shipping is FREE on all U.S. orders over $100*

Ground Shipping is $15 on all U.S. orders under $100*

Expedited Shipping is $25

International Shipping Rates 

Flat International Shipping fee of $50

Payment Method

We accept all major credit cards, online store credit, Amazon Pay and Apple Pay.
At-home LED red and blue light therapy: intended to emit energy in the visible spectrum to provide topical heating for the purpose of elevating tissue temperature for temporary relief of minor muscle and joint pain and stiffness, minor arthritis pain, or muscle spasm; the temporary increase in local blood circulation; and the temporary relaxation of muscles.
INCLUDES
Neck Pain Management Device
Charging cord with wall adaptor
Carrying pouch
Manual - View manual here
FEATURES
FDA Cleared Class II Medical Device featuring Red and Blue LED Therapy
Red and Blue LED therapy delivers low-level light therapy for temporary relief of minor muscle and joint pain, arthritis, and muscle spasm; temporary relief of stiffness and promotion of muscle tissue relaxation; and temporary increase of local blood circulation.
Red LED helps reduce inflammation, swelling, and minor pain.
Red LED helps support blood viscosity and blood circulation and wound healing.
Blue LED is believed to be an effective measure for reducing topical/superficial inflammations, such as acne.
This device is ideal for reducing discomfort and improving relaxation.
Cordless, Lightweight & Portable: The LED therapy device is safe to use at home with treatment times varying from 5-30 minutes
The item is easily recharged with the included USB cable and turns off automatically after 70 seconds when not in use
When fully charged, the item can be used for up to 80 minutes
BENEFITS
Safe & Effortless: The process is painless, non-invasive, and easy to do
Easily switch between blue light and red light therapy depending on your desired outcome when a simple push of a button
Automatically shuts off after 30-minute treatment times
A comfortable fit around your neck
Carrying pouch included for easy portability
Easy to use
Lightweight and portable
Rechargeable
Non-Invasive
HOW TO USE
1. Connect the power cable to the device and power adapter, plug it into an outlet
2. Open the device (see diagram) and place it comfortably on the neck paying careful attention to the direction of the opening angle and do not exceed the maximum angle. Do not forcefully stretch the silicone feature, otherwise, the device can be damaged.
3. Prior to the first 3 uses charge for 10 full hours.
4. Wrap around your neck, first use the blue LED light therapy for 5-10 minutes, then switch to the red LED light therapy and use it for 20-30 minutes.
CARE INSTRUCTIONS
1. If the device malfunctions, refer to "Troubleshooting". If the problem persists, contact the manufacturer. Do not disassemble or repair by yourself as your warranty will be voided.
2. Clean the device using a cloth and gentle cleanser. Do not use organic solvents, gasoline, etc.
3. Store the device in a clean and hygienic area. Avoid Bumping, dropping or excessive bending, always handle with care.
4. Use alcohol to gently clean the light probes and light-emitting port. DO NOT soak in liquid or use hard or abrasive objects to remove stains.
5. To extend the life of the device, keep away from humidity, high temperatures, and direct exposure to sunlight.
6. To avoid scratching, do not use any kind of hard object or place it on a rough surface.
7. Do not change the fuse, contact the manufacturer if necessary.
Note: May cause harmful radiation exposure if all instructions are not adhered to.

PRECAUTIONS
1. Do not use if you are allergic to light.
2. If you are pregnant or if using on a child, always consult your doctor first.
3. Do not use in cases of a cerebral hemorrhage.
WARNINGS
1. Do not look at the LED beam directly as serious eye damage can occur.
2. Review all safety and instructional information prior to use.
3. Do not use in the same place over an extended, constant period of time. Discontinue use in the event of discomfort or overheating on the skin.
4. Use only as intended and on the intended area only. Misuse will result in a void of the warranty.
5. To avoid injury or accidental eye damage, keep it out of reach of children at all times.
6. Do not disassemble.
7. Please do not use it in an environment with explosive anesthetics or other flammable substances.
8. Do not use if you have a pacemaker as the device can interfere with the pacemaker's function.
9. Immediately stop using the machine if you feel thirsty, have dry eyes, quickened pulse, or have dizziness.
If these symptoms persist after taking a break, discontinue use and consult your doctor. Always consult your doctor or physician immediately for any medical questions you may have. This product is NOT guaranteed as a prevention or treatment for any disease or medical condition. For proper use only. Operate only as directed. Misuse may result in sickness or death. Always carefully review instructions for use in the operating instruction manual prior to use.
Keep out of reach of children and supervise children under the age of eighteen (18) at all times if the minor is utilizing and laser device. Do not allow the user to place this item in his/her mouth at any time. No child or minor should ever be left unattended with any of these items, as small parts may become loose and pose a choking hazard.