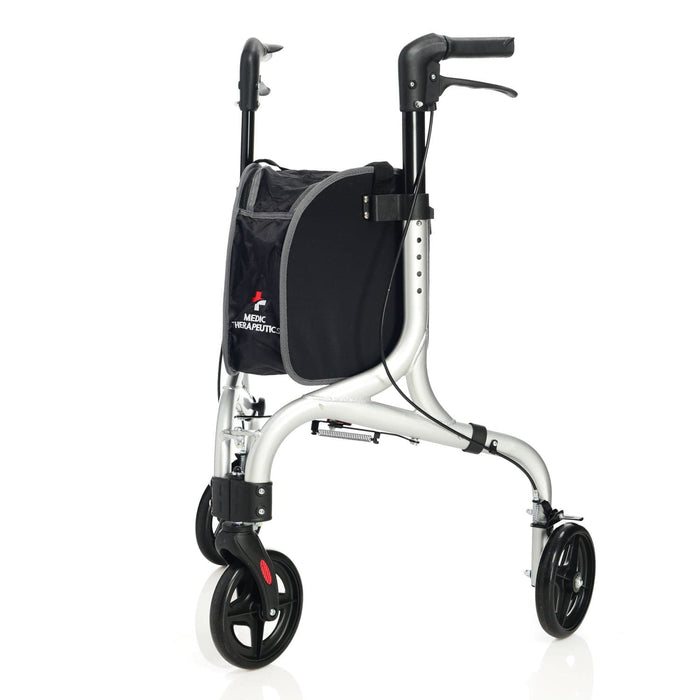 Lightweight Foldable 3-Wheel Rollator w/ Detachable Storage Bag
Original price
$159.99 USD
-
Original price
$159.99 USD
$159.99 USD
-
$159.99 USD
Current price
$159.99 USD
Shiping Rates

Domestic Shipping Rates (within the United States)

Ground Shipping is FREE on all U.S. orders over $100*

Ground Shipping is $15 on all U.S. orders under $100*

Expedited Shipping is $25

International Shipping Rates 

Flat International Shipping fee of $50

Payment Method

We accept all major credit cards, online store credit, Amazon Pay and Apple Pay.
Whether you're out shopping, walking, or standing still, this rollator is compact with increased maneuverability, making it perfect for those with an active lifestyle. A lightweight and durable aluminum frame with a quick-collapse system makes it easy to take with you almost anywhere you want to go. It features an adjustable and supportive upright design for customization, and locking hand brakes for extra safety. Complete with a detachable storage bag, this rollator is ready for your next adventure!
INCLUDES
Main Frame & Front Wheel
RHS Handle
RHS Rear Wheel
LHS Handle
LHS Rear Wheel Bag
Handwheel Handwheel Bolts
FEATURES
Compact with Increased Maneuverability - This exclusive slim-designed walker is perfect for those with an active lifestyle. The 3-wheel functionality increases maneuverability whether indoors or outdoors. Improve both your mobility and independence with the ability to make sharp turns and fit into small spaces.
Lightweight and Foldable - The durable aluminum frame and foldable features make it easy to take this walker with you just about anywhere. It goes where you go with its quick-collapse system for easy storage and transport. Comes equipped with a detachable storage bag, as well as reflective markings on the front wheel for 24-hour visibility.
Adjustable and Supportive Upright Design - The upright posture design helps support not only your balance but may help reduce any temporary pain in leg joints, back, and wrists. Easy to customize for ideal comfort with the height-adjustable handles up to 36.2 inches tall and equipped with locking hand brakes for the extra safety you need whether standing still or rolling alone.
Rustproof
Easy to assemble - no tools required
Adjustable height from 32.5" to 36.5" (to accommodate heights from 4'11" to 6'4")
Length from the back wheel to the front wheel: 29"
Width from the back wheel to back wheel: 26.5"
Width between handlebars: 19"
Height when on its side folded: 9.5"
Weight: 12lbs.
HOW TO USE
Refer to the user's manual for assembly procedure. Your Walker should only be used on standard pavements or at home. It should not be used on rough terrain or pot-holed surfaces. The use of your Walker on these surfaces can seriously compromise your safety and may damage your Walker beyond repair.
CARE INSTRUCTIONS
1. Make sure that all dirt and debris are removed from around the wheels, axle, and brakes.
2. To clean the bag wipe with a damp cloth. Do not machine wash.
3. Clean the frame regularly, using a general-purpose, neutral detergent and warm water.
4. Please check the suitability of the cleaning products before use. Do not use abrasive cleaners or cloths as these could permanently damage the surface and invalidate any warranty.
5. Always allow the product to dry thoroughly prior to use or storage.
DISCLAIMER
Make sure that the rollator is locked in the open position before use. Only use as a walking aid in the forward direction. Do not make adjustments to the rollator unless it is stationary. Do not use stairs or escalators and use them carefully on steep hills. Do not hang items from the handles as this will affect the stability of the rollator. The maximum load weight for the rollator bag must not be greater than 11 lbs.