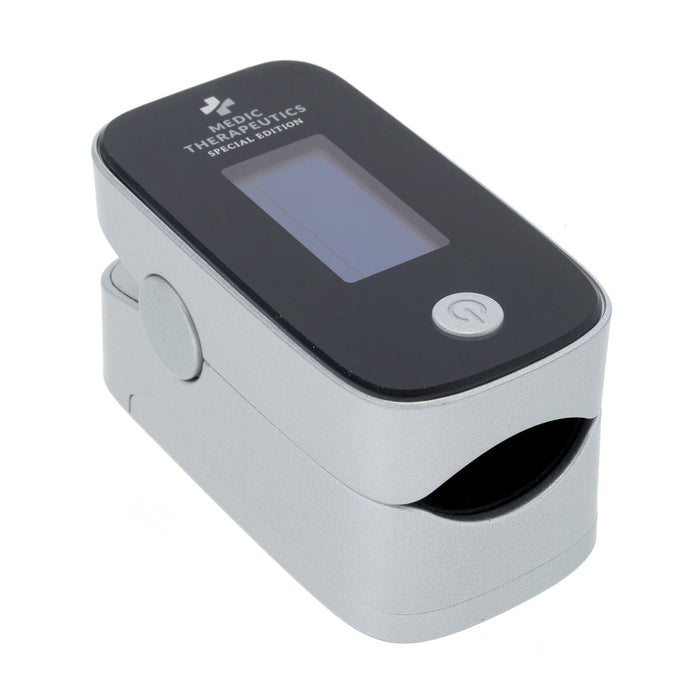 Special Edition Smart Display Fingertip Blood Pulse Oximeter
Original price
$0.00 USD
-
Original price
$0.00 USD
Shiping Rates

Domestic Shipping Rates (within the United States)

Ground Shipping is FREE on all U.S. orders over $100*

Ground Shipping is $15 on all U.S. orders under $100*

Expedited Shipping is $25

International Shipping Rates 

Flat International Shipping fee of $50

Payment Method

We accept all major credit cards, online store credit, Amazon Pay and Apple Pay.
The pulse oximeter is a reusable device intended for spot-checking of oxygen saturation and pulse rate for use with the finger of adult patients in healthcare environments. It is not intended to be used under motion or low perfusion scenarios.
FEATURES
Accurate and reliable: Medic Therapeutics Blood Pulse Oximeter gives you a fast Measurement of your blood oxygen level. SpO2 reading accuracy up to 70-100% and a pulse Rate Accuracy, of ±2 bpm
Painless and Noninvasive: Measures blood oxygen levels and pulse through the finger
Convenient and easy to use: Simple one-step process to get an accurate reading by pushing the power button. The colorful LED Screen makes it easy to read your results
Lightweight and Portable: Small in size and convenient to pack bring it to the office, gym or vacation. Comes with a lanyard and with a carrying pouch.
Everyday use: For people who would like to check their heart rate and/or blood oxygen saturation levels regularly and conveniently. You can have peace of mind and monitor your own blood oxygen levels and those around you.
Measures blood oxygen levels and pulse through the finger
Easy to use, Colorful LED Screen for visibility
Fast Measurement: SpO2 Accuracy - between 70~100%, ±2%; Pulse Rate Accuracy, ±2 bpm
Suitable for most adults
DETAILS
Battery type: AAA
Dimensions: 58 mm (Width) × 34 mm (Depth) × 32.5 mm (Height)
Weight: 39 g (with batteries)
HOW TO USE
Stick one finger completely into the measuring parts of the Oximeter, keep the fingernail surface upward, and release the clip. Then press the power button to power on the Oximeter. Adult only
Care Instructions: Power off the instrument and remove the batteries before cleaning. Ensure that the appearance of the instrument is neat, dust-free, and dirt-free. Clean the outer surface of the instrument (including the LED screen) using 75% medical alcohol and a piece of a dry soft cloth.
Caution: Avoid liquid flowing into the instrument during cleaning.
Caution: Do not immerse any part of the instrument into any liquid.
MAINTENANCE
Remove the batteries from the battery slot and properly store them if you do not plan to use the Oximeter for a long period of time.
Avoid using the Oximeter in an environment with inflammable gases or using it in an environment where the temperature or humidity is excessively high or low.
Check the accuracy of the oxygen saturation and pulse rate readings by using an appropriate calibration apparatus.
Disclaimer: The following may disrupt the accuracy of the Oximeter: Use in a high-frequency environment or around CT machines. Used on the same area as a blood pressure cuff, arterial duct, or intravenous injection. The user suffers from hypertension, severe vascular atrophy, severe anemia, or low oxygen. The user is in sudden cardiac arrest or a state of shock. Use on a finger with nail polish or fake nails.
WARNINGS: Do not use around a flame or any flammable agents. Choking hazard. Keep away from children. Do not discard batteries in a fire. Do not attempt to charge device batteries. Charging can result in battery leakage, fire, or explosion. Always discard batteries according to environmental safety guidelines. Do not use MRI, CT, or other X-Ray machines. Do not operate if wet. Avoid moving devices between hot, cold, or humid temperatures. Install batteries properly. Remove batteries if being stored for a long period of time. Always close the battery cover properly. Operate only as directed. Do not modify or use it for any reason other than the intended purpose. Only certified doctors are qualified to evaluate and use the produced results.