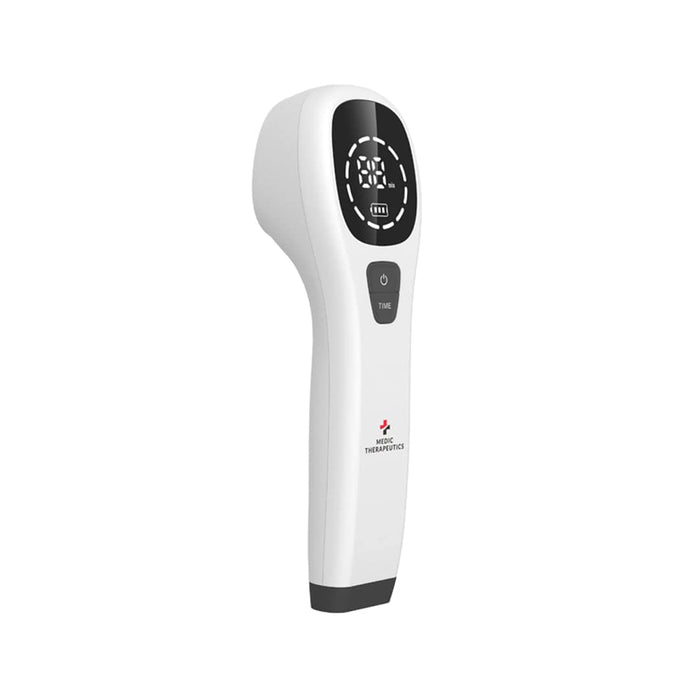 Handheld Pain Management Laser Therapy With Protective Glasses
Sold out
Original price
$220.00 USD
-
Original price
$220.00 USD
$220.00 USD
-
$220.00 USD
Current price
$220.00 USD
Shiping Rates

Domestic Shipping Rates (within the United States)

Ground Shipping is FREE on all U.S. orders over $100*

Ground Shipping is $15 on all U.S. orders under $100*

Expedited Shipping is $25

International Shipping Rates 

Flat International Shipping fee of $50

Payment Method

We accept all major credit cards, online store credit, Amazon Pay and Apple Pay.
At home and easy to use class 3B laser therapy, complete with protective glasses. Laser therapy provides temporary relief of hand and wrist pain associated with Carpal Tunnel Syndrome
Handheld Pain Management Laser Therapy
Power adapter plug
USB cable
Protective glasses with glasses case
Carrying pouch
Manual 
FEATURES
FDA Cleared Class II Medical Device featuring Laser Therapy for adjunctive use in the temporary relief of hand and wrist pain associated with Carpal Tunnel Syndrome
This device features "cold" laser therapy which outputs low levels of light to the targeted area allowing the body tissue to absorb the light and work with your cells to create a reaction that temporarily promotes minor pain relief associated with hand and wrist pain relating to or resulting from Carpal Tunnel Syndrome.
Cordless, Lightweight & Portable: The laser therapy device is safe to use at home or at the gym with treatment times ranging from 5 to 30 minutes.
Safe & Effortless: The process is painless, non-invasive, and easy to do.
The included Protective Glasses help to keep the user's eyes safe and protected during treatments.
It features a large and easy-to-read LED display screen that showcases time in use and battery life 
The carrying pouch makes it easy to travel with.
The item is easily recharged with the included USB cable
DETAILS
Laser medium: GaAIAs Semiconductor
Laser wavelength: 650nm±20nm/808nm±20nm
Number of laser diodes: 808nm laser diode X1 pc650nm laser diodes X12 pcs
Maximum output power per 808nm laser diode: 150mW±20%
Maximum output power per 650nm laser diode: 5mW±20%
Battery voltage: DC 3.7V
Input power: <10VA
Relative humidity: <80%
Atmospheric pressure: 860hpa~1060hpa
Voltage: 100-240V
DISCLAIMER
Keep out of reach of children to prevent injuries to their eyes. Avoid looking directly at the light. Do not use it if you have a pacemaker, as the laser can interfere with the pacemaker's performance. Not intended to diagnose, treat, cure, or prevent any disease or health condition.
Please Note:
1) The charging time should last 10 hours for the first 3 uses.
2) Only use the included power adaptor to avoid damaging the device.
3) Dampen a cotton bud with a gentle neutral cleaner to clean the dirty surface of the device. Don't use organic solvents, gas, etc. to clean.
4) Dampen a cotton bud with alcohol to gently clean the light-emitting ports or lasers. Never soak or scrape to clean.
HOW TO USE
Turn on
1) Press and hold the power button. (Figure 1)
2) As the device turns on, the buzzer will make a "tick" sound.
3) All the icons on the LED screen will light up briefly when turned on, then the default settings will be displayed on the screen (default settings: 05 minutes as shown in Figure 2).
Time Setting
1) Press "Time" to adjust the treatment time. Time increases in increments of 5 minutes; treatment time is adjustable from 5 to 30 minutes ( Figure 3 ). Hover the handheld laser over the desired treatment area at a distance of 0.42in – 0.78in away from your skin. 
2) When "Time" is pressed, the buzzer will make a "tick" sound, and the time icon on the LED screen will change.
Treatment Start and Pause
1) After setting the time, short press "Power" to initiate the treatment.
2) After the treatment has been completed, the buzzer will "tick", the laser will stop and the LED screen will return to the settings status.
3) To pause during treatment, short press "Power". The buzzer will "tick" and the time display will pause. Shutdown Press and hold " " to turn the device off. The buzzer will "tick". (Figure 4).
Note: The device has an automatic shutdown function to save energy; the device will automatically turn off after 2 minutes if not in use.
Charging: The charging time is approx. 2-3 hours for a DC 3.7V lithium battery