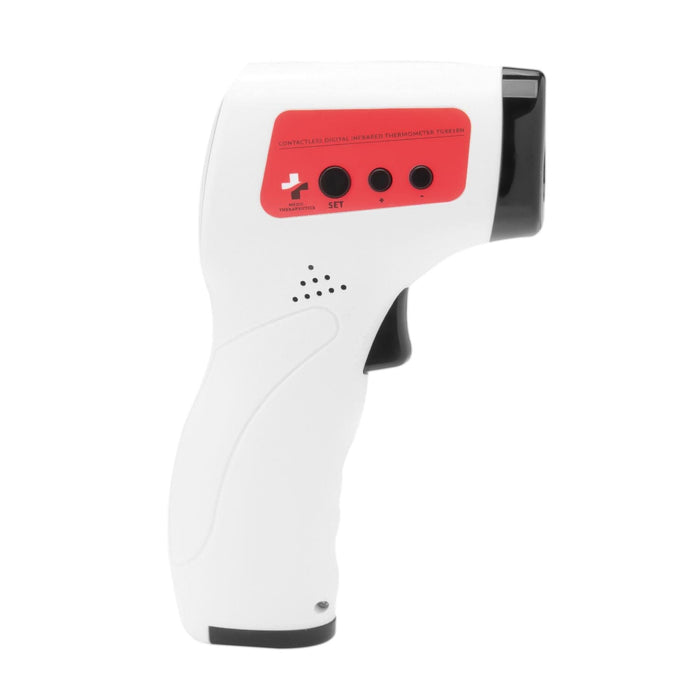 Dual Mode Contactless Digital Infrared Thermometer (FDA Approved)
Original price
$0.00 USD
-
Original price
$0.00 USD
Shiping Rates

Domestic Shipping Rates (within the United States)

Ground Shipping is FREE on all U.S. orders over $100*

Ground Shipping is $15 on all U.S. orders under $100*

Expedited Shipping is $25

International Shipping Rates 

Flat International Shipping fee of $50

Payment Method

We accept all major credit cards, online store credit, Amazon Pay and Apple Pay.
This dual-mode contactless digital infrared thermometer features an LCD screen and measures temperature quickly and across many environments due to its environmental temperature adaptability. It has an auto-shutoff function and allows you to choose between Celsius and Fahrenheit temperature measuring. It can be used for body and surface temperatures.
 DETAILS
Features dual modes for body and surface temperatures
Stable and reliable high-precision infrared sensor
Environmental temperature adaptability, enabling the product to be used across a variety of environments
Automatically saves the last temperature measured
Two unit options of measurement: Celsius and Fahrenheit
Shuts down automatically to save battery energy
Measuring Time = ~1 second
Measuring accuracy= +/- 0.2 degrees C
Measuring Range: 34.0C/93.2F - 42.9C/109.2F
Measuring Distance: 1cm/0.39inch - 5cm/1.97Inches
Tri-Color Temperature Indicator Lighting: Green Orange Red
Dimensions: Approximately 6 in x 3 in x 1.75 in, 0.40 lbs
Power Supply: 2 AA Alkaline Cell Batteries, not included
Parts: Infrared detector, LCD Screen, Down key, Up key, Set key, Measuring key, Battery cover
Includes manual
Read the manual carefully before use to make sure the battery is properly installed.
Store the thermometer in a stable temperature environment. When the ambient temperature changes drastically, let the thermometer sit for about ten minutes prior to use.
Do not measure the body temperature immediately after measuring the temperature of an extremely high or low-temperature object.
If the measurement object comes from an environment with a great difference from the current test environment temperature, let the thermometer sit in the test environment for at least five minutes.
Avoid taking measurements when the forehead is exposed to wind, water, sweat, or has applied cosmetics. Do not take measurements within 30 minutes of exercising, showering, or eating.
Do not disassemble or modify the machine, otherwise, it will cause inaccurate measurement results
Keep the inner cavity of the sensor and probe clean before and after use, otherwise, the accuracy of measurement will be negatively affected.
Use a clean soft cloth, cotton swab, or medical alcohol wipes to clean the areas exposed to dirt. Allow drying before use.
Do not immerse the thermometer in liquid. Do not leave it in high or low-temperature environments for a long period of time.
Do not collide, drop or put sharp objects in the thermometer. Do not disassemble yourself.
It is recommended to practice using the thermometer several times to get familiar with the measurement methods. Try not to change the factory settings.
Measurements are not a substitute for a physician's diagnosis.
Please contact the seller or manufacturer if there is any trouble during use.
Please dispose of the waste and residue at the end of the service life of the product accordingly to local laws and regulations.