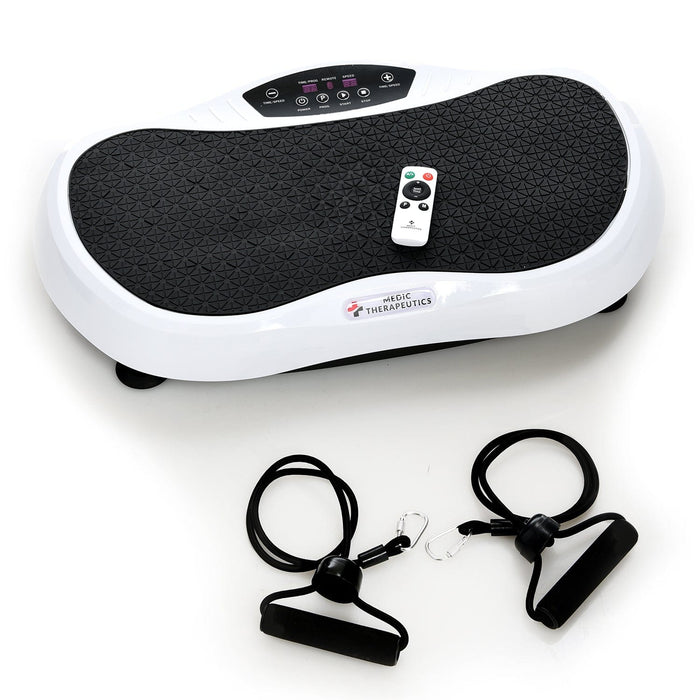 Vibrating Fitness Platform w/ Resistance Bands & Remote
Sold out
Original price
$225.00 USD
-
Original price
$225.00 USD
$225.00 USD
-
$225.00 USD
Current price
$225.00 USD
Shiping Rates

Domestic Shipping Rates (within the United States)

Ground Shipping is FREE on all U.S. orders over $100*

Ground Shipping is $15 on all U.S. orders under $100*

Expedited Shipping is $25

International Shipping Rates 

Flat International Shipping fee of $50

Payment Method

We accept all major credit cards, online store credit, Amazon Pay and Apple Pay.
This vibrating fitness platform helps support flexibility and strength, helps enhance your movement, activates your muscles and helps with muscle recovery, and helps support a sense of well-being. It's easy to use with the included remote.
INCLUDES
Vibrating Fitness Platform
Remote
Manual
FEATURES
Designed for All Fitness Levels: Unlike other fitness platforms, the Medic Therapeutics vibrating fitness platform goes from 1 (beginner) to 99 (advanced) to allow customers to customize to their ability and increase speed as they go
Lightweight & Portable - at only 24 lbs, it's easy to move from room to room or tuck under your bed or sofa
Fast & Simple workouts in 10 min or less, using exercises like squats, set-ups, push-ups, planks, core workouts and more. If you are a beginner, simply standing or sitting with your feet on the platform will help you start to engage and see results
Improve overall fitness and flexibility
Creates a full-body vibration that stimulates muscles causing extra muscle contraction and increased activation
Vibration helps transmit energy throughout your body and makes your muscles contract and relax
Vibration invigorates the bones and muscles to help maintain their health
Included yoga straps make the perfect at-home gym cardio bundle to help tone and strengthen the upper and lower body
With a wide range of speed settings from 1 to 99, you can maximize your workouts regardless of ability level
Easy to use display screen and remote control to get the most efficient results in the shortest amount of time possible
Helps support circulation, flexibility, strength, and balance
Easy to use remote control operation
Helps support muscle recovery, and reduce muscle soreness after exercise
Helps jumpstart your weight loss journey
Remote control battery type required is a CR2032 (not included)
DETAILS
Length: 25.7in.
Width: 14.9in..
Height: 5.1in.
Weight: 24 lbs
Resistance Bands Length: 25"
Power Cord Length: 57.5"
Work out surface area: Width: 10" / Length: 22"
Please Note: Not recommended for people over 220 lbs.
Please see the Usage tab for how to use information.
HOW TO USE
To ensure proper use, please read the manual carefully and pay special attention to the safety precautions. Provide supervision with children under 10 and adults over 60.
Care Instructions: STORAGE AND MAINTENANCE - Ensure the power is off and the product is unplugged. Clean any dust or debris. Do not store in high humidity or extreme temperatures. Use a dust cover if not in use over long periods of time. When moving the product from high to low temperatures or vice-versa, please wait one hour before using. Failure to do so may result in damage to the product.
DISCLAIMER
DO NOT USE IF: You are receiving medical treatment or are feeling unwell. You have a malignant tumor. You are pregnant or menstruating. You have heart disease. You have osteoporosis. You have a pacemaker or other electronic medical device. You use a prosthetic. You are sensitive to vibration and strenuous exercise. WARNING: Do not dismantle or take apart the product. Contact the manufacturer directly if repair is needed. STOP USE IF The product or controller has come into contact with any liquid or water. Any accessory is damaged, or an internal component is exposed. You are experiencing pain or are unwell. Power failure. During a thunder and lightning storm.