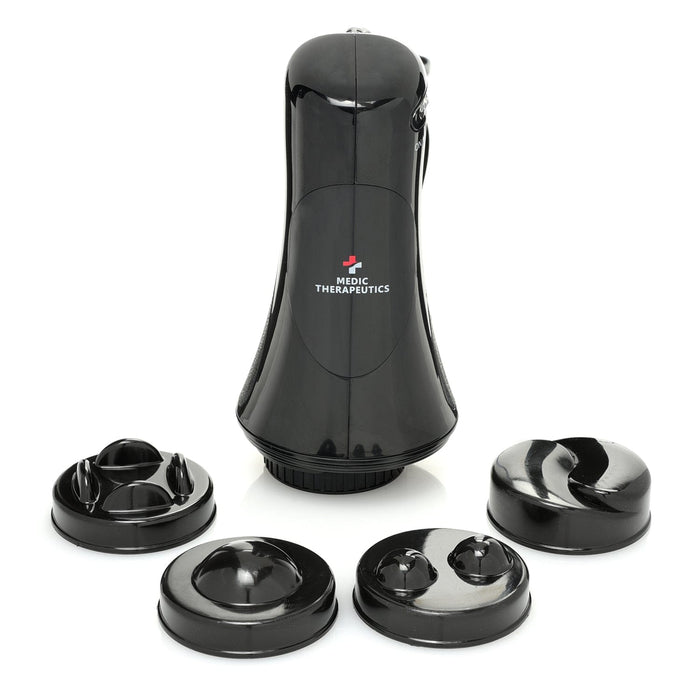 Handheld Sculpting Massager w/ 4 Interchangeable Heads
Original price
$99.00 USD
-
Original price
$99.00 USD
Shiping Rates

Domestic Shipping Rates (within the United States)

Ground Shipping is FREE on all U.S. orders over $100*

Ground Shipping is $15 on all U.S. orders under $100*

Expedited Shipping is $25

International Shipping Rates 

Flat International Shipping fee of $50

Payment Method

We accept all major credit cards, online store credit, Amazon Pay and Apple Pay.
At-home, handheld massager to help support your blood circulation and promote muscle relaxation. Includes 4 interchangeable massage heads for use on your calves, waistline, neck and shoulder, arms, thighs, hips, and feet. Helps target knots for tension relief and creates a relaxing massage for all body use.
INCLUDES
Handheld Sculpting Massager
4 Interchangeable Heads
Instruction Manual 
FEATURES
Interchangeable Massage Heads - Accommodate your personal needs through adjustable vibration speeds, an auto massage mode as well as being equipped with 4 interchangeable massage heads to hit targeted areas and suit your needs. Whether you want a gentle massage or an intense one, it's the perfect at-home massage every time.
Massage anytime anywhere - Lightweight and compact, this handheld massager is easy to hold and easily carried allowing you to use it in the comfort of your own home or take it with you on the go at your convenience.
Mesh Cover - smooth mesh cover for maximum comfort and a relaxing massage for all-over body use.
No Recharge Time-The massager comes with a power cord and an A/C adapter that can easily be plugged into your outlets around your home. This means no recharge time, no waiting, and maximum portability. An automatic Timer that turns off after 30 minutes plus the automatic overheat protection provides additional safety and security.
Includes 4 Interchangeable Massage Heads for use on your calves, waistline, neck, shoulder, arms, thighs, hips, and feet/ The flatter heads work to contour the look of your body focusing on the top layers of the skin and muscle.
At-home, handheld massager to help support your blood circulation and promote muscle relaxation
Auto Massage Mode, Adjustable Vibration Speed
DISCLAIMER 
First-time users should limit their first session to 5 minutes or less, to allow their bodies to adjust to the experience. Only gentle force should be exerted on the unit in order to eliminate the risk of injury. You may soften the massage pressure by placing a towel between yourself and the unit
HOW TO USE
1. Attach the massage head of your choice.
2. Snap on the mesh massage head cover.
3. Plug the power cord into any standard wall outlet.
4. To activate the vibration massage turn the green dial until it clicks.
5. Adjust vibration speed using the dial.
Remove the plug from the outlet when not in use.
CARE INSTRUCTIONS
1. Do not wash in the washing machine or immerse the product or the cord in water.
2. Always switch off before cleaning and remove the cord from the socket with clean, dry hands.
3. The massager should be wiped with a slightly moist cloth and dried thoroughly. Do not wipe the product with alcohol or harsh chemicals such as thinner or bleach.
4. Keep away from heat, fire, or exposure to direct sunlight.
5. Store the massager in a cool, dry place out of reach of children.