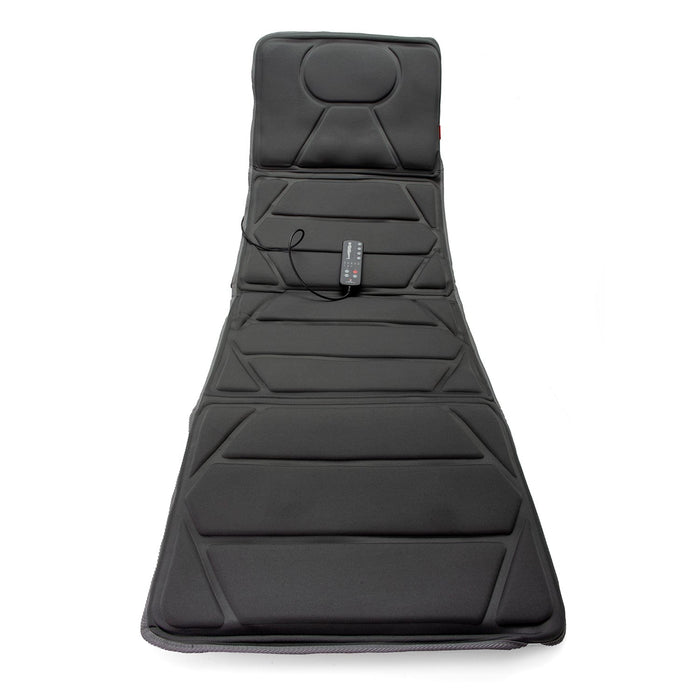 Foldable Ten Motor Massage Mattress w/ Soothing Heat Therapy
Original price
$99.99 USD
-
Original price
$99.99 USD
Shiping Rates

Domestic Shipping Rates (within the United States)

Ground Shipping is FREE on all U.S. orders over $100*

Ground Shipping is $15 on all U.S. orders under $100*

Expedited Shipping is $25

International Shipping Rates 

Flat International Shipping fee of $50

Payment Method

We accept all major credit cards, online store credit, Amazon Pay and Apple Pay.
Unwind with a relaxing full-body massage to help release muscle tension. This massage mattress features heated pads to help loosen and soothe muscles and support blood circulation. You'll enjoy soothing heat and therapy options with 10 motors and two heated pads for full back coverage. Flexible and foldable with a durable polyester knitted cover.
INCLUDES
Ten Motors Massage Mattress
Home Adaptor
Remote Control
Instruction Manual
FEATURES
Ten Motors - soothing heat and therapy with 10 invigorating massage motors provide soothing vibrating full body massage to help relieve stress, and tension and eliminate fatigue. Not only does this have 10 motors, but also 5 programmed massage settings and 2 heated pads for the perfect massage at home.
Portable & Lightweight- At just 5 lbs., you can easily take this flexible and foldable massager anywhere for maximum enjoyment. Works on chairs, sofas, in your bedroom! Tailor your experience with the touch of a button by choosing your desired temperature, intensity, and customized massage.
No Recharge Time-The massager comes with a power cord and an A/C adapter that can easily be plugged into your outlets around your home. This means no recharge time, no waiting, and maximum portability. An automatic timer that turns off after 30 minutes plus the automatic overheat protection provides additional safety and security.
Heated pads help loosen and soothe muscles and support blood circulation
3 Vibration Levels- Low, Medium, and High 5 Programmed Massage Settings
Customizable Massages: - Select Specific Massaging Region - Combine Massaging Regions - Use all Massaging Regions at Once
Durable Polyester Knitted Cover Flexible and Foldable
Versatile Use- Place on Any of the Following Surfaces: - Chair - Recliner - Sofa - Bed
DETAILS
Remote Control Operated
Measurements: 67 x 21.8 inches
Weight: 5.2lbs
Voltage: Input: AC 100-240V ~50/60Hz Output: 12VDC 1.5A
Nominal Power: Maximum 18 Watt
Automatic runtime: 30 minutes
Country of Origin: China
HOW TO USE
If needed, fasten the strap around the back of a chair or other supportive surface.
Connect the adapter cable to the corresponding cable at the side of the mat
Plug the home adapter into an outlet.
Turn on the device using the controller
Place the controller in the pouch at the side of the cushion when finished. This device will switch off automatically after the 30-minute timer runs out.
CARE INSTRUCTIONS
Do not wash in the washing machine or immerse the product or the adapter in water.
Always switch it off before cleaning and remove the adapter from the socket with clean, dry hands.
The massager should be wiped with a slightly moist cloth and dried thoroughly. Do not wipe the product with alcohol or harsh chemicals such as thinner or bleach.
Keep away from heat, fire, or exposure to direct sunlight.
Store the massager in a cool, dry place out of reach of children.
Avoid contact with sharp edges or pointed objects which might cut or puncture the fabric surface.
DISCLAIMER
This item is NOT A TOY. Close supervision is necessary when this appliance is used by, on, or near children or disabled persons. Do not use if you have skin disorders, open wounds, or swollen or inflamed areas. If you are dependent on electrical aids e.g. pacemakers, please be sure to consult your doctor for medical advice before using this device.
VENDOR WARRANTY TERMS
Your Medic Therapeutics Product is backed by a limited lifetime manufacturer's warranty. Medic Therapeutics will repair or replace your device at any time should it fail due to a defect in material or workmanship, subject to certain limitations. Address: Medic Therapeutics Service Center3069 Taft Street Hollywood, FL 33021
Contact: warranty@medictherapeutics.com