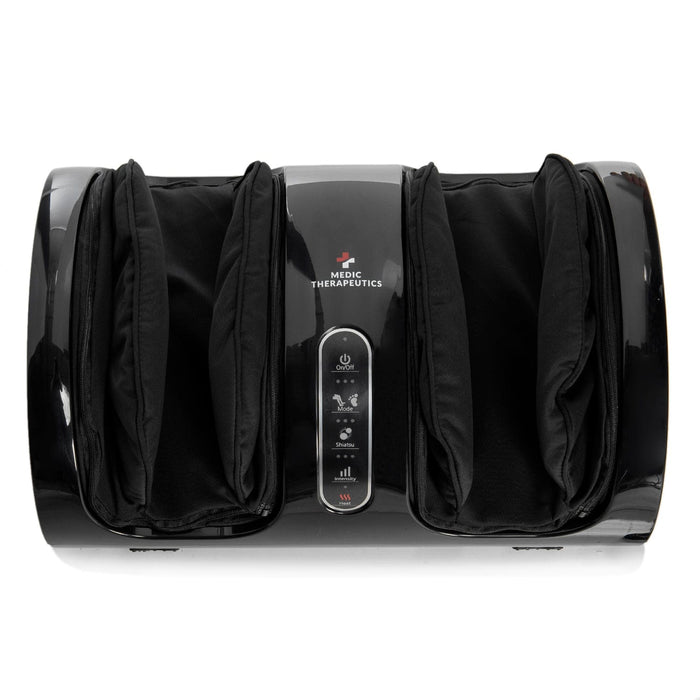 Air Compression Calf, Foot & Arm Massager w/ Heat
Original price
$320.00 USD
-
Original price
$320.00 USD
$320.00 USD
-
$320.00 USD
Current price
$320.00 USD
Shiping Rates

Domestic Shipping Rates (within the United States)

Ground Shipping is FREE on all U.S. orders over $100*

Ground Shipping is $15 on all U.S. orders under $100*

Expedited Shipping is $25

International Shipping Rates 

Flat International Shipping fee of $50

Payment Method

We accept all major credit cards, online store credit, Amazon Pay and Apple Pay.
If you've got sore and tired calves, legs or arms, it's time to relax the pair away with this Medic Therapeutics massager. With three types of massages, three intensities and two heat settings, you can customize your massage to your liking. And thanks to a 180-degree rotating bar, you'll get the best massage angle and portability when you need it!
Includes
Massager
Detachable and washable foot/leg sleeves
Home adapter
Features
3-in-1 Multi-Use Massage: 3 different massage items all in one! The Shiatsu massager can perform deep kneading and rolling massage as well as air compression on the feet, calves, ankles and arms.
3 Massage Modes + Heat: The massager features 3 massage modes, speeds and intensities to perfectly tailor to your specific needs. The added heat and vibration help to increase circulation and blood flow to promote relaxation!
180-Degree Rotating Bar: The rotating support bar provides the best and comfortable massage angle in all directions so you can massage any part of your tired feet, ankles, legs or even arms! The Bar can also be used to easily carry the massager from room to room or when traveling!
Soothing heat therapy for muscle relaxation
Foot & leg massage coverage, removeable & washable sleeves, adjustable support bar positioning for targeted relief & easy portability
3 modes and 3 speeds, 3 intensity levels and 2 heat settings
180 degree adjustable bar to angle it to your needs
15 Minute automatic timer
Details
Product Specs:

 

Materials: ABS + Polyester •Voltage:-Input: AC 100-240V ~50/60Hz-Output: 12VDC 4000mA•Nominal Power: max. 48Watt
Width:

 

12.2in.
Height:

 

7.87in.
Weight:

 

9.92lbs.
Manual(s) Included:

 

Yes
Care Instructions
Always unplug the unit before cleaning it. Never touch the power plug with wet hands. Before cleaning, allow unit to cool. Wipe the unit with a soft, dry cloth. Do not use cloths containing any kind of chemical or alcohol and solvent liquids. Never submerge any part of the unit in liquid. If the unit is particularly dirty, use the following instructions:
1. Dampen a cloth in water or a 3%-5% mild detergent solution. 2. Wipe the dirty areas with the wet cloth. 3. Wipe the areas with a soft, dry cloth. 4. Wait for the unit to become fully dry before use. Do not use corrosive cleaning agents like benzene or thinner to clean the Foot Massager, otherwise the color of the fabric will fade or the massager will crack or erode. Do not iron the fabric. When the product is wet, allow the product to air dry thoroughly before use.
Disclaimer: Do not wet, do not use pins, never remove cover. This item is NOT A TOY. Close supervision is necessary when this appliance is used by, on, or near children or disabled persons. This appliance should never be left unattended when plugged in. Please avoid contact of the device with water, high temperatures and direct sunlight. Do not use any damaged cables, plugs or loose sockets. Never operate under blankets where the air opening may be blocked. If plugs or cords are damaged, they must be replaced by the manufacturer, a service representative or by qualified personnel. In case of malfunction, disconnect immediately from the mains. Do not use if you have skin disorders, open wounds, or swollen or inflamed areas. Misuse or incorrect use excludes any liability for damage. In order to avoid excessively stimulating the muscles and nerves, the recommended massage time should not be exceeded 15 minutes at a time. The packaging material supplied should not be used as a toy.