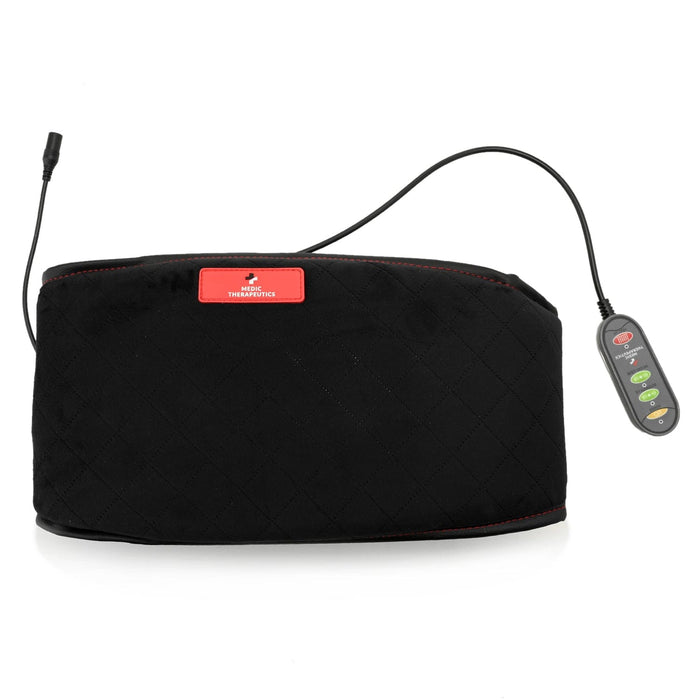 Adjustable Belt w/ Heat & Vibration Technology
Original price
$200.00 USD
-
Original price
$200.00 USD
$200.00 USD
-
$200.00 USD
Current price
$200.00 USD
Shiping Rates

Domestic Shipping Rates (within the United States)

Ground Shipping is FREE on all U.S. orders over $100*

Ground Shipping is $15 on all U.S. orders under $100*

Expedited Shipping is $25

International Shipping Rates 

Flat International Shipping fee of $50

Payment Method

We accept all major credit cards, online store credit, Amazon Pay and Apple Pay.
This lightweight, portable massage belt from Medic Therapeutics is perfect for relaxation at home or the office. Customize your massage with three modes, two intensity levels and vibration and heat settings to help ease away muscle aches and pains.
Includes
2-in-1 Heating Pad & Massage Belt
1 Extension Piece (for belt)
1 Home adapter
Features
Adjustable Fit - This Lightweight belt Includes an easy-to-use extension piece to adjust to your needed size. Adjusts up to 62 inches to fit most sizes! Extremely light weight and portable. Use it at home or bring into the office with the 30 minute automatic timer and easy operate included remote control.
Soothing Heat Therapy - ultra- soft plush waist belt has built in rapid heating for maximum relaxation. Feel the heat in just seconds and temporarily relieve minor aches and muscle tension in your lower back, hips, and abdominal area.
Vibration Massage - Includes 3 pre-programmed massage modes and 2 vibration intensity levels to completely customize to your needs. Easily relieves aches and pains as well as tired sore muscles.
4 Built-in massage motors for greater coverage
Machine washable cover
Soothing heat therapy option
Remote control operated
2-in-1 Functionality: - Heating Pad - Massage Belt
Length:

 

44.3in.
Width:

 

8.2in.
Weight:

 

1.54lbs.
Care Instructions:
1. Dampen a cloth in water or a 3%-5% mild detergent solution.2.Wipe the dirty areas with the wet cloth.3.Wait for the unit to become fully dry before use.4.Always unplug the unit before cleaning it.5.Before cleaning, allow unit to cool.6.Wipe the unit with a soft, dry cloth. Do not use cloths containing any kind of chemical or alcohol and solvent liquids.7.Never submerge any part of the unit in liquid.8. Place massager in a safe, dry, and cool place. Avoid contact with sharp edges or pointed objects which might cut or puncture the surface.9.Keep away from children at all times
Disclaimer: Do not wet, do not use pins, never remove cover. This item is NOT A TOY. Close supervision is necessary when this appliance is used by, on, or near children or disabled persons. This appliance should never be left unattended when plugged in. Any possible repairs may only be carried out by authorized expert staff. Improper use and unauthorized repairs are not permitted for safety reasons and lead to loss of warranty. Never touch the power plug with wet hands. Please avoid contact of the device with water, high temperatures and direct sunlight. Do not use any damaged cables, plugs or loose sockets. Never operate under blankets where the air opening may be blocked. If plugs or cords are damaged, they must be replaced by the manufacturer, a service representative or by qualified personnel. In case of malfunction, disconnect immediately from the mains. Do not use if you have skin disorders, open wounds, or swollen or inflamed areas. Misuse or incorrect use excludes any liability for damage. Do not use this product for medical treatment. In order to avoid excessively stimulating the muscles and nerves, the recommended massage time should not be exceeded 30 minutes at a time. The packaging material supplied should not be used as a toy.