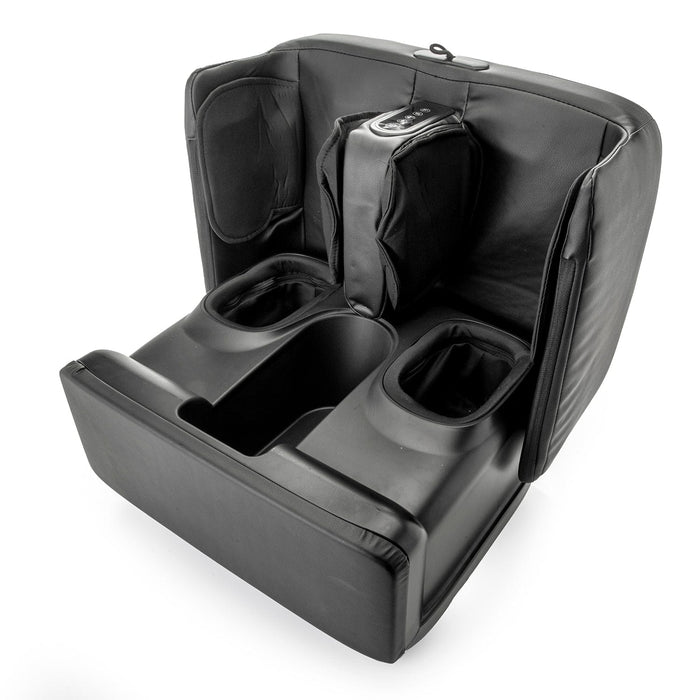 2-in-1 Foot & Leg Massage Ottoman w/ Heat
Original price
$219.99 USD
-
Original price
$219.99 USD
$219.99 USD
-
$219.99 USD
Current price
$219.99 USD
Shiping Rates

Domestic Shipping Rates (within the United States)

Ground Shipping is FREE on all U.S. orders over $100*

Ground Shipping is $15 on all U.S. orders under $100*

Expedited Shipping is $25

International Shipping Rates 

Flat International Shipping fee of $50

Payment Method

We accept all major credit cards, online store credit, Amazon Pay and Apple Pay.
This foot and calf massager from Medic Therapeutics is perfect for helping soothe away aches and pains. Featuring three massage settings, two vibration settings and an optional heat setting, you can customize your massage to your liking. And when you're done, the massager converts into a heated ottoman.
Includes
2-in-1 foot & leg massager/heated ottoman seat
Detachable and washable foot sleeves
Home adapter
Features
Unique Convertible Design - Innovative Foot and Calf massage ottoman that combines style with advanced massage therapy. When your massage is over, it becomes a sleek and heated ottoman that you can put your feet on for relaxation or even extra seating.
Massage and Heat Therapy - Simply place your feet inside for a refreshing and rejuvenating massage of the feet (heel, sole, ankle) and calves with the rolling, vibration, and shiatsu massage. Includes 2 massage modes and 3 pressure intensity levels.
Compact and Easy to Use - Simply lift up the handle to transform your new ottoman and enjoy your at home massage in just seconds. Adjust the support bar at the bottom to your desired and appropriate massage angle based on your seated position. You don't ever have to worry about storing!
Detachable and washable foot sleeves
15 minute automatic timer
Digital touchpad. No remote
Length:

 

19.3in.
Width:

 

15.7in.
Height:

 

11.8in.
Weight:

 

20.06lbs.
How To Use
Size of product itself: 19.3 x 15.7x 11.8 inches (Closed)• Net weight of product itself: 20 lbs. • Single package size: 21 X 12.4 X 17 in • Net weight of product including package: 23 lbs. • Materials: PU • Voltage:- Input: AC 100-240V ~50/60Hz- Output: 24VDC 1500MA• Nominal Power: max. 36Watt • Automatic Timer: 15 minutes
Care Instructions: Always unplug the unit before cleaning it. Never touch the power plug with wet hands.• Before cleaning, allow unit to cool.• Wipe the unit with a soft, dry cloth. Do not use cloths containing any kind of chemical or alcohol and solvent liquids.• Never submerge any part of the unit in liquid.• If the unit is particularly dirty, use the following instructions:1.Dampen a cloth in water or a 3%-5% mild detergent solution.2.Wipe the dirty areas with the wet cloth.3.Wipe the areas with a soft, dry cloth.4.Wait for the unit to become fully dry before use. •Do not use corrosive cleaning agents like benzene or thinner to clean the Foot Massager, otherwise the color of the upholstery will fade or the Foot Massager will crack or erode.• Do not iron the upholstery. When the product is wet, allow the product to air dry thoroughly before use
Disclaimer: Do not wet, do not use pins, never remove cover. This item is NOT A TOY. Close supervision is necessary when this appliance is used by, on, or near children or disabled persons. This appliance should never be left unattended when plugged in. Never operate under blankets where the air opening may be blocked. If plugs or cords are damaged, they must be replaced by the manufacturer, a service representative or by qualified personnel. In case of malfunction, disconnect immediately from the mains. In order to avoid excessively stimulating the muscles and nerves, the recommended massage time should not be exceeded 15 minutes at a time. Consult a doctor prior to use if you are one of:-Those who are using electronic medical instrument imbedded in the body, such as cardiac, pacemaker etc.-Those who are being treated by doctors, especially those who feel discomfort.-Those who are malignant tumor patients, heart disease patients, or acute patients.-Women who are pregnant or menstruating.-Those with osteoporosis or a fractured spine.-Those with skin disease or those whose skin is impaired.