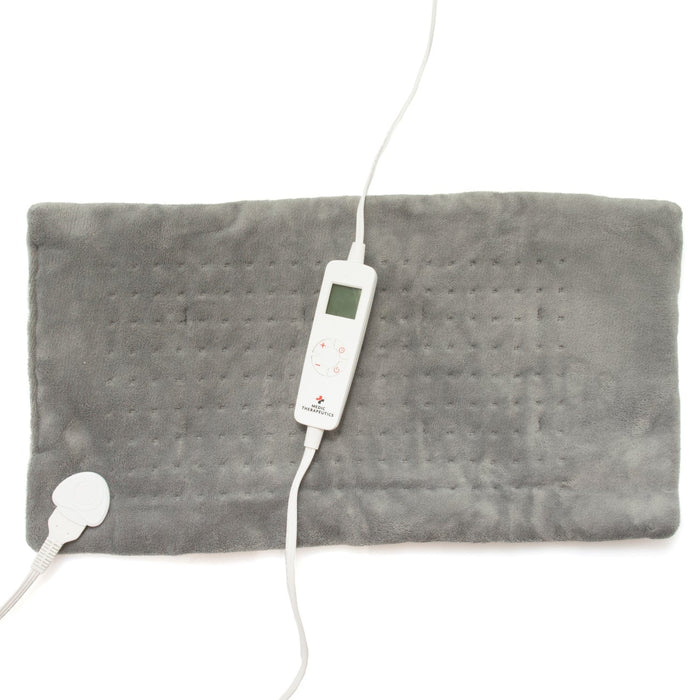 12" x 24" Heating Pad w/ 6 Settings & Auto Off Function
Sold out
Original price
$55.00 USD
-
Original price
$55.00 USD
Shiping Rates

Domestic Shipping Rates (within the United States)

Ground Shipping is FREE on all U.S. orders over $100*

Ground Shipping is $15 on all U.S. orders under $100*

Expedited Shipping is $25

International Shipping Rates 

Flat International Shipping fee of $50

Payment Method

We accept all major credit cards, online store credit, Amazon Pay and Apple Pay.
This heating pad features 6 adjustable heat settings with moist and dry options, fast heating, and soft and cozy fleece material that is machine washable. Easy to use, this lightweight and portable heating pad also features an auto-off function.
Medic Therapeutics offers a comprehensive line of wellness products. All of our products emphasize high-quality standards designed for Staying Healthy & Living Well. Following a best practice protocol, all of our chemical-free products are designed and crafted to positively impact your environment for optimum health and safety. Medic Therapeutics is here for a mindful reentry into public life. Our portable, easy-to-use tools and accessories are designed to reduce risk to yourself and others in a streamlined, hassle-free way. We are going the distance now for a safer, more connected tomorrow.
FEATURES
6 adjustable heat settings with moist & dry options
Fast heating & overheating protection
Soft and cozy coral fleece material
Machine washable
Easy to use
Lightweight & portable
Auto-off function: This product will turn off after a set duration of time. Settings are 0.5 hours (30 minutes), 1.0 hours, and 1.5 hours (90 minutes)
Size: 12" x 24"
Disclaimer: IMPORTANT SAFETY INSTRUCTIONS
1. Do not use while sleeping.
2. Burns can occur at any setting, check the skin under the pad with frequency to avoid burns and blisters.
3. Do not use it on an infant.
4. Do not use it on a disabled, sleeping, or unconscious individual.
5. Do not use on an individual with poor circulation, paralysis, or diabetes.
6. Do not sit, lean, or otherwise crush the pad and avoid sharp folds.
7. Always place the pad on top of, not under the body.
8. Never place the pad between the body and a chair, sofa, bed, or pillow.
9. Do not use on areas where the skin is sensitive.
10. Do not use in an oxygenated environment.
11. Do not use metal pins or other metallic accessories.
12. Do not use liniment or ointment.
13. Do not use in conjunction with any other heat-generating product or treatment.
14. Never pull on the supply cord and do not use the cord as a handle.
15. Always unplug when not in use.
16. Do not dry clean.
17. When storing, wrap the unplugged cord loosely around the pad
HOW TO USE
1. Disconnect the power cord from the electrical outlet
2. Make sure the Pad Connector is disconnected from the Control Connector by pressing the tabs on the sides of the Control Connector while pulling the connectors apart.
3. Machine or hand wash the Pad using a mild detergent, cool water, and a gentle/delicate cycle.
4. Line dry or lay the Pad flat to dry. Do not tumble dry.
5. Make sure the product is completely dry before the next use.
6. To store the product, loosely roll the Heating Pad toward the Storage Straps, loop the Straps over the rolled ends, and then store it in a cool, dry, dark location after each use. Avoid sharply folding the Heating Pad.