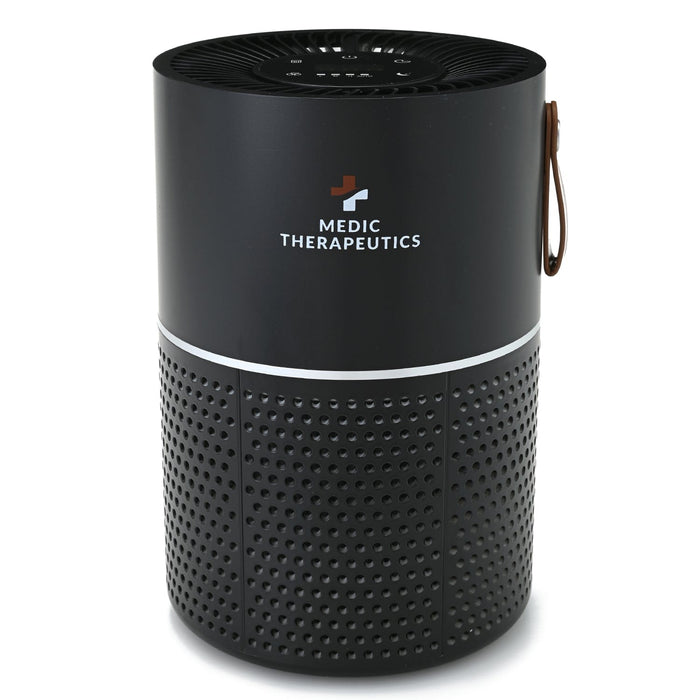 Compact Air Purifier w/ Activated Carbon Filtration
Original price
$89.99 USD
-
Original price
$89.99 USD
Shiping Rates

Domestic Shipping Rates (within the United States)

Ground Shipping is FREE on all U.S. orders over $100*

Ground Shipping is $15 on all U.S. orders under $100*

Expedited Shipping is $25

International Shipping Rates 

Flat International Shipping fee of $50

Payment Method

We accept all major credit cards, online store credit, Amazon Pay and Apple Pay.
This compact air purifier from Medic Therapeutics has a 5-stage filtration system, timing adjustment from 1-8 hours, and multiple fan speeds. This compact air purifier is the perfect addition to any home! 
INCLUDES
AC/DC adapter
Activated Carbon HEPA H13 Filter
FEATURES
O-Zone Free
Multiple fan speeds
Easy to assemble
Timer function
Compact design
Advanced filter replacement solution with a reminder
Timing adjustment from 1-8 hours:1H-2H-3H-4H-5H-6H-7H-8H
Fan speed adjustment: Low-Mid-High-Sleep-Auto
Can be used around plants and pets
Compact Design -This 6.6" x 9.8" compact unit fits perfectly in your home's smaller spaces.
High-Efficiency 5-Stage Filtration System.
Auto-Mode: When the user activates Auto Mode, the Medic Therapeutics sensors adjust the fan speed accordingly.
It generates very little noise making it ideal for any room in the house, including your bedroom while you sleep. The added "sleep mode" ensures the lights are dimmed on the control panel to avoid disturbances or waking the user up.
Can be used in the bedrooms, kitchens, and living rooms. Please note, do not use where there is high temperature or humidity
This product itself does not require the Prop 65 warning. Carbon black is regulated under Prop 65 only if in the form of "airborne, unbound particles of respirable size". This product does not contain carbon black in the form of "airborne, unbound particles of respirable size". Therefore, the requirements of Prop 65 do not apply to this product. Medic Therapeutic is taking extra precautions by placing this warning on the label.
Care Instructions: Daily cleaning and maintenance time of filter reference: about once a month. The surface of the filter should only be cleaned with a brush or a dry cotton cloth. Do not wash the filter with water or detergent. The filter can easily break or be deformed. Do not apply hard pressure when cleaning. If it is damaged, make sure to replace before using. Filter replacement: Ensure to replace the filter once every 8-12 months (depending on extent of use and environment of the device). Please replace the filter in time when the filtering effect is not functioning properly. Outer surface cleaning: Wipe the outer surface and air inlet and outlet with a soft cloth. Do not use a harsh chemical cleaner. If the device will not be used for a long period of time: Unplug the power adapter, clean the outer surface and the filter. Then, cover the device with a plastic bag and store it in a dry area, away from moisture and direct exposure to sunlight.
Disclaimer: Do not use any liquid to clean this product. There is a high-speed fan in the purifier. Do not put your hands or any foreign objects into the Compact Air Purifier at any time. Place the purifier out of reach of children. Do not put any loose objects too close to the main unit. In order to improve the purification effect, close the doors and windows when using the product. Please ventilate when using the burner or stove to avoid carbon monoxide poisoning. Do not use power cords of different specifications. Please install the power cord supplied with this product. Do not use this purifier in the bathroom or any other places with high temperature or humidity.