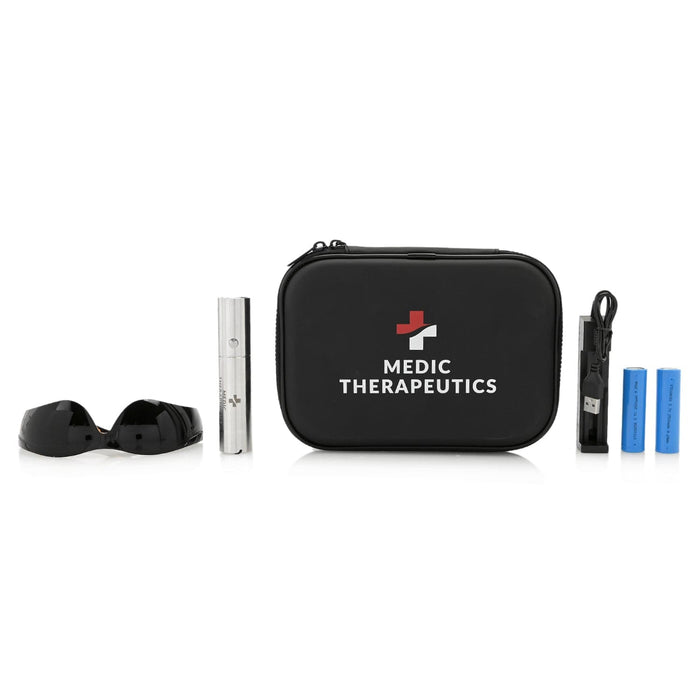 FDA Cleared LED Red Light Therapy Device w/Bag
Original price
$200.00 USD
-
Original price
$200.00 USD
$200.00 USD
-
$200.00 USD
Current price
$200.00 USD
Shiping Rates

Domestic Shipping Rates (within the United States)

Ground Shipping is FREE on all U.S. orders over $100*

Ground Shipping is $15 on all U.S. orders under $100*

Expedited Shipping is $25

International Shipping Rates 

Flat International Shipping fee of $50

Payment Method

We accept all major credit cards, online store credit, Amazon Pay and Apple Pay.
Live healthy and well with Medic Therapeutics' FDA-cleared handheld red light therapy device. Intended to assist in alleviating minor pains and inflammation, this device can provide relief by targeting specific areas.
Includes
LED Pain Relief Device
Wrist band
2 x 18650 Rechargeable batteries
USB Cable
Protective Eyewear
Carrying Bag
Manual

 
Features
FDA Cleared Class ll Pain Relief Device: The Medic Therapeutics LED Pain Relief device is a safe and effective way to temporarily relieve minor aches and pains, improve circulation and increase your range of motion.
Lightweight, Portable and Cordless: The Medic Therapeutics LED Pain Relief device operates on the included battery allowing the device to be completely portable, lightweight and be used to sooth those hard-to-reach parts of the body.
Short Treatment Times: The Medic Therapeutics LED Pain Relief device only needs to be used in 5-minute increments to reach maximum benefits. For light pain and discomfort use once a day and for deep pain, the item can be used up to 3 times per day.
Includes Premium Tri-Spectrum Technology that helps to Support Post-Workout Recovery as well as Temporarily Alleviate Discomfort & Pain
Red Light Therapy is intended to assist in pain relief and alleviate inflammation. Our Red Light Therapy Device uses premium tri-spectrum technology to help these symptoms recover through active cell regeneration. Our device is a combination of 630nm, 660nm, and 850nm infrared LEDs which are believed to have a deep penetration effect
FDA Cleared Class ll Medical Device that helps to temporarily reduce muscle stiffness, aiding in muscle relaxation.
This device helps temporarily increase local blood circulation. Offers soothing effects.
This device works to stimulate the tissues to provide temporary relief to minor aches and pains. Suitable for soft tissue around your knees, shoulders and back.
This device helps temporarily reduce minor pain associated with arthritis, tennis elbow, joint and muscle pains.
Laser therapy delivers non-thermal photons of light to cells
Comes with protective eyewear and carrying bag. Included wristbands.
Treat spot and Targets Specific Areas
Extremely Compact, small and portable device. Stainless Steel exterior.
LED Torch combines red light 630nm*1 + 660nm*1 + infrared light 850nm*1, totals 235mW power
Disclaimer: Do not use on children. Use protective eye wear and do not shine light directly onto eyes.
How To Use
Please read manual for instructions
Size of product - 1" D x 4.7" H Package Size - 6.4" L x 2" W x 8.8" H Net weight of product - 0.4 lbs. Material - stainless steel Battery QTY and Type - 2 Batteries, type 18650